(CNN) -- The Gates Foundation is pledging $255 million to help eradicate polio around the world.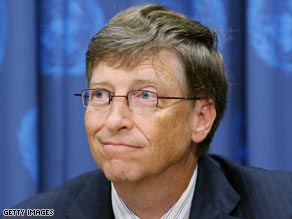 The Bill and Melinda Gates Foundation is donating $255 million to help eradicate polio.
The money will go to Rotary International as a "challenge grant" that it hopes to match with a further $100 million raised by its members over the next three years, the foundation announced late Wednesday.
Rotary's Global Polio Eradication Initiative says it has reduced the number of global polio cases by 99 percent in the past two decades, bringing the number from 350,000 to just 1,600 last year.
In addition to the money from the Gates Foundation, the United Kingdom is giving $150 million to the initiative and Germany is donating $130 million, the foundation announced.
"With the support of the Bill and Melinda Gates Foundation, we are on the brink of eradicating one of the most feared diseases in the world," said Jonathan Majiyagbe, chair of the Rotary Foundation. "This shared commitment of Rotary and the Gates Foundation should encourage governments and non-governmental organizations to ensure that resources and the will of the world are available to end polio once and for all."
The Bill & Melinda Gates Foundation was started by the Microsoft founder and his wife to battle hunger and poverty.
Polio is an infectious disease carried by the poliovirus. It causes motor paralysis and atrophy of skeletal muscles, often causing permanent disability and deformity.
The disease has been completely eliminated in the Americas, the Western Pacific and Europe, but the polio virus persists in Afghanistan, India, Nigeria and Pakistan. Imported cases from these countries threaten other developing nations.
Access to vaccines and vaccine effectiveness are the biggest problems in fighting the disease.
The money donated to the polio initiative will be used to sponsor immunization days for children, extra vaccinations in high-risk areas, research into new vaccines and more surveillance to detect outbreaks before they spread, Rotary said.
E-mail to a friend