By Madison Park
CNN





(CNN) -- After the birth of octuplets this week, some doctors are questioning the ethics and medical practice that contribute to extreme multiple births.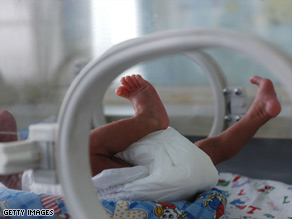 The earlier a baby is born, the greater its risk of dying or facing significant lifelong problems.
Multiples have higher health risks because of their likelihood to be born premature. Many premature babies, such as the new California octuplets, are much smaller and face greater dangers than full-term.
These risks include bleeding in the brain, intestinal problems, developmental delays and learning disabilities that could last throughout their lives. But not all preemies have medical or developmental problems.
Doctors who are caring for the octuplets at Kaiser Permanente hospital in Bellflower, California, caution that it is too soon to tell whether any of the eight premature babies have neurological or medical conditions, such as cerebral palsy or anemia.
Dr. Mandhir Gupta, director of neonatology at the hospital, said Tuesday, "There are no indications so far, but again, it is very, very early. They are not 24 hours old yet."

Watch a report about the newborns »
The six boys and two girls were born Monday through Caesarean section. Several are getting oxygen assistance but are reported to be "doing very well" after nearly 31 weeks in the womb.
Ten years ago, Nkem Chukwu of Houston, Texas, gave birth to the United States' first surviving octuplets. The eighth baby, a girl named Odera, weighed only 10.3 ounces and died after suffering heart and lung failure a week after birth. In total, the eight premature babies weighed about 10 pounds.
Septuplets born to Bobbi and Kenny McCaughey of Des Moines, Iowa, in November 1997 all survived, and two of them have cerebral palsy.
Don't Miss
The mother of the California octuplets wants to remain anonymous, and the hospital has not answered questions about whether she was using fertility treatments. But medical experts who are not connected with the births say it would be nearly impossible for a woman to naturally conceive eight babies at once.
Dr. Mary Hinckley, a California-based reproductive endocrinologist, said, "most commonly, this happens via fertility-assisted conception."
A mother with a multiple birth could have used hormones to grow and ovulate multiple eggs at the same time. A patient may have not followed the doctor's recommendations, or the doctor may not have understood the consequences, allowing the patient to produce too many eggs, which were then fertilized, resulting in a multiple birth.
"It's considered fairly reckless for reproductive endocrinology in the United States," Hinckley said. "Through guidelines, we've really altered this so [large multiple births] are incredibly uncommon here in the U.S. It's usually if the doctor is not doing what he was trained to do or the patient is not following the doctor's advice."
The more premature the babies are born, the greater risks they have of dying or facing significant lifelong problems, said Dr. Norbert Gleicher, medical director at the Center for Human Reproduction in New York.
"The media should not make this into heroic case," Gleicher said. "This is anything but a heroic case. This is very bad medicine."
Twins carry low risk of premature birth. Triplets have higher risk than twins, quadruplets have even higher risks, and so on, he said.
As a result, "octuplets are crazy with tremendous risk," Gleicher said. "Our function as physicians is to help our patients to have babies, but it is our principle that patients have healthy babies. So we have an absolute responsibility to prevent high or multiple births."
Experts aren't sure why multiple births tend to occur prematurely. Some suggest that the uterus can't handle such a large mass, causing the woman to go into early labor.
During the pregnancy, the fetuses are cramped inside the uterus and compete for the same resources, and some may be weaker or smaller than others. The eight children born this week weighed from 3.4 pounds to 1.8 pounds.
"There was a wide range of weights," said Dr. Leonard E. Weisman, director of the Perinatal Center at Texas Children's Hospital. "Some of that might be due to human variation, or some of it might be due to the fact they might have been compressed and not getting enough support from the placenta."
Weisman, who helped deliver the first set of octuplets 10 years ago, said there are health risks to the mother as well.
"There's a potential that the babies would outstrip the needs of the mother," Weisman said. "It's rather remarkable mother could stay with eight fetuses for 31 weeks. That's unusual."
Health Library
Two of the California octuplets were on ventilators, or breathing tubes, in the hours after their birth, but those tubes were removed Monday night, Gupta said. While some of the babies are receiving oxygen through their noses, most are breathing by themselves, he said.
"The lungs are still immature, but they really are doing very well," Gupta said. "The hearts are working very good. We have very good blood pressure."
Gupta refused to comment on the babies' chances of survival, since "we've never had eight babies born at 30 weeks."
Single babies born at 30 weeks face "very, very good" odds, he said. With multiples, even twins, he said, "we expect them to do a lot worse than these babies are doing."
Gupta said Monday that the first three to seven days will be critical for the octuplets, saying they could be in incubators for six to eight weeks and hospitalized for 10. The babies have not been named.
The parents of the first octuplets offered their advice for the newest family.

"There's definitely been some challenges, of course. It initially was overwhelming. But now we're getting used to it," Nkem Chukwu told CNN Radio. "They are now 10 years old, and it's like we've forgotten what it was like during the initial stage."
Her husband, Iyke Louis Udobi, said the new parents will need community support, "a lot of diapers and milk. And they need to take it easy."
E-mail to a friend

CNN's Shahreen Abedin and Shelby Erdman contributed to this report.
All About Pregnancy and Childbirth