By Leslie Wade
CNN Medical Producer





ATLANTA, Georgia (CNN) -- Exercise can be a sweaty proposition. And with millions of Americans jumping on the exercise bandwagon, all that perspiration can become downright messy.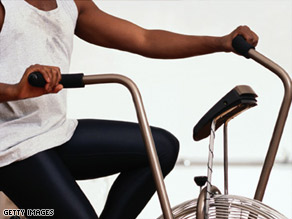 Bring a towel when you head to the gym. Be courteous and wipe down the equipment when you're done.
That just adds to the frustration of gym managers and gym-goers, many of whom are stepping into gyms for the first time after resolving to get fit in the New Year.
"It's gross," said Kristin McEwen, a vice president at the YMCA in Atlanta, Georgia. She's become a big advocate of what she calls gym etiquette.
The worst offenders, McEwen says: People who perspire on the workout machines and weights and don't clean up after themselves.
"We'll have people who come in, and they will sweat profusely, and they will leave puddles around the equipment," McEwen said, adding that the solution to poor gym etiquette is easy.
Bring a towel when you head to the gym. Be courteous, and wipe down the equipment when you're done. And if you want to go one step further, get a bottle of disinfectant from the front desk.

Watch more on gym etiquette »
The second biggest offense is noise, McEwen says. Gyms are noisy enough, but with patrons talking on cell phones and blaring MP3 players, the noise level can become a distraction -- not to mention that fiddling with gadgets can create a safety problem.
"People don't realize a lot of times when they're on their cell phones how loud it is, and it distracts you from what you're doing," said McEwen, who said she's even seen people trip on a treadmill while trying to send text messages. She recommends leaving the cell phone in the locker -- or, better yet, don't bring it into the gym at all.
Don't Miss
Phones aren't the only thing to leave behind. McEwen wants gym-goers to save the skimpy outfits for the beach -- and that applies to women and men.
Although clients are losing weight and firming up their bodies, she said, "You really want to keep your belly button to yourself. And even if you're really proud of it, it's OK to cover it up when you're working out."
While on the subject of clothing, McEwen stresses that it's important to swap out your clothes after every workout.
"Wash them and remember that person next to you doesn't want to smell the second workout on those gym clothes," McEwen said with a laugh.
But it's not just inconsiderate behavior that experts are concerned about. The gym can be a breeding ground for germs, especially if you're sick. Dr. Drew Werner of the Valley View Hospital in Glenwood Springs, Colorado, recommends staying home if you're under the weather.
Health Library
"High fevers -- don't work out. Shortness of breath enough to impair you exercise ability -- don't work out. And be considerate of those around you so you're not infecting them," he suggested.

McEwen agrees, and increasingly, so do some of her clients. Although she has seen her share of bad behavior lately, she's also heard others telling people to clean up after themselves.
And, she says, she's heard people insist that fellow patrons not leave their "toys" out for others, telling them, "Could you please put your weights away? I'm not your mother."
E-mail to a friend

All About Exercise and Fitness