By Anouk Lorie
For CNN





LONDON, England (CNN) -- A "shocking" number of people around the world are not aware that obesity and weight are among the main risk factors that can lead to cancer, a new survey has found.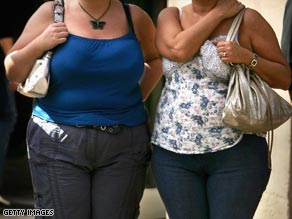 Estimates suggest cancer will sooon become the leading cause of deaths, with weight playing an important role.
Around 40 per cent of people in North and South America, Australia, New Zealand and West Asia do not know about the link between weight and cancer, the global survey found.
In other regions such as Africa and South East Asia, the survey revealed that awareness is even lower, with respectively 41 and 49 per cent of people saying there is no link between weight and cancer.
Terry Slavin who published the report for the International Union against Cancer (UICC), told CNN he was "shocked to discover the number of people who do not know about the link."
"From Russia to China to the Seychelles to Kurdistan, I did not find a single country where trends in obesity and overweight are not worrisome," Slavin added.
Vital Signs
Each month CNN's Dr. Sanjay Gupta brings viewers health stories from around the world.


The survey -- Cancer Related Beliefs and Behaviour -- interviewed 40,000 in 39 countries. It found that those who are most at risk from some cancers appear to downplay their own risk.
For example, the survey found that 25 per cent of people who drink alcohol frequently and also use tobacco daily, believe that smoking cigarettes does not increase the risk of cancer.
Slavin said the same is true of people who are already overweight or obese.
"Thirty to 40 per cent of cancers could be preventable if people led healthier lives, tackling overweight and obesity," Slavin added.
A global prevention campaign aimed primarily at youngsters has now been launched to deal with the growing crisis.
Called "I Love My Healthy Active Childhood," it aims to encourage children to have an energy-balanced lifestyle, based on a healthy diet and physical activity.
According to the World Health Organization (WHO) an estimated 22 million children under five are overweight today, and the problem is growing.
The campaign is a continuation of the UICC's "Today's children, tomorrow's world" cancer prevention campaign. Last year, the organization focused on anti-smoking "I Love my Smoke-free Childhood" campaign.
"Overweight and obesity are part of the causal chain for many cancers," Professor David Hill, the president of the UICC said in a news release to launch the initiative.
He added: "This is well established in science but not adequately understood in the community.
"In fact, current lack of public understanding of the link between body weight and cancer probably parallels our attitudes to smoking and cancer in the late 1950s."
The UICC report found that in regions such as Latin and Northern America, Australia/New Zealand, Western Asia and Africa, over half of individuals are overweight or obese and therefore more vulnerable to cancer.
A report from the World Health Organization (WHO) in 2007 showed that cancer will become the leading cause of death worldwide by 2010, surpassing heart disease.
There was also a rising incidence of cancers in developing countries, the WHO reported.
Slavin believes one of the main reasons for this is that developing countries are increasingly adopting eating habits popular in developed countries.
"People in many developed countries used to eat a lot of plants and fruits, but the shift towards the screen-based generation and [fast foods] is increasing the number of cancers.
"We need to teach these countries not to take the examples of developed countries" added Slavin.
E-mail to a friend

All About Cancer • Brain Cancer • Colon Cancer • Breast Cancer