By Elizabeth Cohen
CNN Senior Medical Correspondent





(CNN) -- Christina McMenemy's husband called her on a Monday afternoon last June to say he was coming home early. She was overjoyed -- some extra, unexpected time with her husband on a lovely summer day.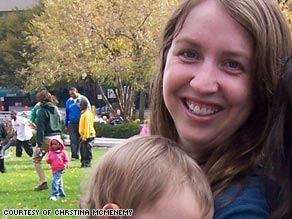 Christina McMenemy worried about health costs for her family after they lost their health insurance.
But that sweet moment turned sour when she found out why her husband was free to leave work early. "He said he was pulled into an office after lunch and told, 'Your job's gone. Here's your stuff. You're done,' " McMenemy remembers. "We had health insurance for one more month, and that was it."
That health insurance had taken good care of their family -- her husband, Aaron, worked for the state of Ohio -- and once McMenemy got over the initial shock of her husband's layoff, she set out trying to think of the best way to use the time they had left on insurance.
"I'm a neurotic organizer," says McMenemy, a freelance writer, blogger and nursing school student. She immediately began scheduling doctor's appointments, tests and procedures for herself, her husband and their two daughters: Miranda, who had just turned 1, and 3-year-old Cordelia, who has autism. iReport.com: Have you been recently laid off?
But McMenemy made one crucial mistake that could have come back to haunt her.
With nearly 700,000 jobs lost in December alone, many people are trying to cram in as much medical care as they can in the short time they have left on health insurance. But experts say there are land mines out there, and tests you don't want to have, because the results could make it tough for you to get insurance later.

Watch more on health insurance missteps to avoid »
Don't Miss
Here are three mistakes people commonly make when they're about to lose their health insurance, and how to avoid them.
1. Getting every test out there
That's the mistake McMenemy made. She had her internist do a host of tests. The problem: If anything bad had turned up, she might have had a very difficult, if not impossible, time getting reasonably priced health insurance because she would have been diagnosed as having a pre-existing condition.
"A savvy consumer might stop and think, 'I don't know if I want this testing,' " says Dr. Gail Gazelle, an internist, patient advocate and assistant clinical professor at Harvard Medical School.
"For example, let's say you snore, and you're thinking about having a sleep study done. You might want to wait on that until you have more secure health insurance," she advised.
Deciding what tests to do and not do can be tricky, adds Dr. Delia Chiaramonte, a patient advocate in Baltimore, Maryland. In part, it depends on when you think you might get another job. "If a mammogram shows a likely cancer, it will be very hard to get insurance in the future," she says. "If I knew I was going to start another job with insurance in two months, I might hold off on cancer screening until then."
See this list of screening tests from the federal U.S. Preventive Services Task Force to help make your decisions.
2. Failing to negotiate a price with your doctor
At first, McMenemy didn't want to negotiate health care prices. "I was nervous. I was embarrassed about it. I thought they'd laugh at me," she says.
But with her family's last day of insurance looming, McMenemy gathered her courage and asked her daughters' pediatrician if she could continue seeing him for a lower rate than what her insurance company had been paying.
She was pleasantly surprised when the office manager told her she could pay $40 for an office visit. "They told me they had patients ask them to do this all the time, and it was no big deal," she says. "I was really grateful because I didn't want to lose my pediatrician."
"You'd be surprised how many doctors, especially primary care physicians such as internists and pediatricians, will do this for their patients," Gazelle says.
"You can even appeal to your doctor to see you for free," she says. "Doctors are all well aware of the horrendous economic situation we're in."
For tips on how to negotiate prices with your doctor, see this advice from Michelle Katz, author of the book "Healthcare for Less."
3. Forgetting about immunizations
Given the panic you might feel about the short-term ramifications of losing your health insurance, you might forget about the long-term benefits of immunizations not just for your children, but for yourself. Get them while your insurance is still paying for them, advises Dr. Sandra Fryhofer, past president of the American College of Physicians
"Make sure you're up to date on adult immunizations -- their preventive effects are long lasting," Fryhofer says.
Vaccines can help prevent diseases such as tetanus, diphtheria, whooping cough and shingles. Here's the CDC's full list of adult vaccines and when to get them.
As for McMenemy, she's grateful the tests she got in her waning days of health insurance didn't show anything wrong.
As she waits for graduation from nursing school in June -- and, she hopes, a job with insurance -- McMenemy's top priority has been to keep her daughters insured. At first, she was successful: She enrolled her daughters in Ohio's SCHIP, a state program for children who don't have health insurance.
But then in December, her husband got a three-month freelance job, and his income made her daughters ineligible. Now, her daughters are back to having no health insurance.

Her second worry is about precancerous moles she had removed just before her husband found out he'd been laid off.
"I was supposed to go back for a four-month follow-up appointment, but I didn't because I can't afford it," she said. "So now I'm always wondering, what if I have cancer? What if I'm missing something big and something terrible happens just because I don't have insurance? Am I cheating my girls out of time with me?"
E-mail to a friend

CNN's Tanika Gray and Marcy Heard contributed to this report.
All About Health Care Costs • Layoffs and Downsizing • Family Medicine