WASHINGTON (CNN) -- The chairman of the Senate Agriculture Committee is "outraged" at the growing number of food-borne illnesses nationwide, he said Thursday.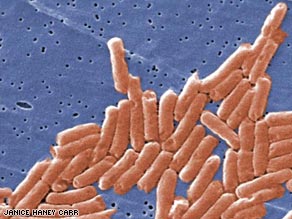 The Peanut Corp. of America found salmonella in its plant in Blakely, Georgia, the FDA said.
Sen. Tom Harkin, D-Iowa, spoke amid a nationwide outbreak of salmonella poisoning that has sickened 575 people and has been linked to eight deaths. The illnesses have been traced to peanut butter and peanut paste produced by the Peanut Corp. of America at its plant in Blakely, Georgia.
Even as the Senate committee conducted its hearing, fallout from the peanut butter problem continued.

Watch more of the hearing »
The U.S. Department of Agriculture has suspended Peanut Corp. from doing business with the federal government, it said Thursday.
And authorities in Kentucky asked the public Thursday morning to throw away packets of peanut butter in emergency meals that were distributed as part of a disaster relief effort for winter storms.
In Washington, Harkin and other senators quizzed officials from the Food and Drug Administration and the Centers for Disease Control and Prevention.
"I am nothing short of outraged at the increasing number of outbreaks of food-borne illnesses in our country," Harkin said. "Everything from spinach and lettuce and peppers to beef products ... and now peanut products have been implicated."
Don't Miss
Sen. Amy Klobuchar, D-Minnesota, questioned officials about the role of states in inspecting food plants. States do a lot of inspections on their own and are not required to report results to the FDA, the federal agency investigating the peanut butter cases.

Learn more about salmonella and food poisoning »
As a precaution, federal authorities in Kentucky asked storm victims to toss out any peanut butter they received in kits that were distributed after a nasty winter storm slammed into the state last week.
No one has been reported sick from the emergency meals, and the recall is purely a precautionary move, officials said.
Though the kits do not all contain the same main course, they do contain packets of peanut butter, the Federal Emergency Management Agency said in a statement.
Jay Blanton, spokesman for Kentucky Gov. Steve Beshear, said that "out of an abundance of caution," officials are " finding alternative sources of food for people in shelters." Visit CNNhealth.com, your connection for better living

About 6,000 to 7,000 people remained in shelters in Kentucky, primarily in the western part of the state, on Wednesday evening.
The meals were sent after President Obama declared Kentucky and Arkansas federal disaster areas because of punishing rain, ice and snow.
E-mail to a friend

All About Peanut Corporation of America • Food and Drug Administration