By Alessio Vinci
CNN





ROME, Italy (CNN) -- An emergency decree that could prevent doctors from finishing removing the feeding tube of a woman who has been comatose for 17 years was sent to the Italian Senate on Friday night for a vote.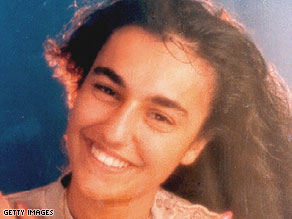 A portrait of Eluana Englaro. She has been in a vegetative state for nearly 17 years.
Parliament must act quickly because doctors began removing the feeding tube Friday morning, and Italian media quoted them as saying the procedure can be reversed only within the first 48 hours, in this case by Sunday morning.
Experts said the process of removing the tube could take up to two weeks.
The Council of Ministers, led by Prime Minister Silvio Berlusconi, unanimously approved the decree earlier in the day, but President Giorgio Napolitano refused to sign it.
That led Berlusconi to put the decree in bill form and forward it to the upper house of Parliament, urging lawmakers to meet in an emergency session.
The bill directs doctors to continue feeding and hydrating Eluana Englaro, 37, until Parliament makes a decision.
"I will do everything I can to save her life," Berlusconi said at a news conference after the Council of Ministers adopted the decree. "Eluana is alive, and she could have children."

Watch Italian PM vow to keep comatose woman alive »
Vital Signs
Each month CNN's Dr. Sanjay Gupta brings viewers health stories from around the world.


"We have to do everything possible to stop a person from dying," he said on government television.
If passed by the Senate and the Chamber of Deputies, the bill would go to Napolitano. If he still refuses to sign it, it would return to Parliament, where a second approval would make it law.
In rejecting the decree, Napolitano sided with a ruling by the nation's high court, which upheld a lower court's decision to allow the feeding tube to be withdrawn.
According to a statement from Napolitano's office, "An emergency decree cannot be in contrast with a court decision."
Don't Miss
Englaro has been in a vegetative state for 17 years, after suffering what doctors determined to be irreversible brain damage in a 1992 car crash, when she was 20 years old. She was transferred Tuesday to a private clinic where she is expected to die, ending what has been a lengthy and controversial legal fight, which ended in the courtroom in November.
For years, Englaro's father, Beppino, has fought to have her feeding tube removed, saying it would be a dignified end to his daughter's life.
The case has been a controversial one in Italy, a heavily Catholic country where the Vatican has great influence. Last Sunday, Pope Benedict XVI told pilgrims that "euthanasia is a false solution to suffering."

Watch more on the Euthanasia debate in Italy »
On Friday, Monsignor Elio Sgreccia, president emeritus of the Pontifical Academy for Life said, "Eluana is alive and has the right to be sustained. It is the duty of the doctors, of society, and of the political institutions to administer her essential foods to keep her alive. No one has the right to take her life away from her."
He added, "The government has done well. The courts had pronounced themselves, but there is also the ethic duty to respect a human life."

Beppino Englaro said that before the crash, his daughter visited a friend who was in a coma and told him she didn't want the same thing to happen to her if she were ever in the same state.
Euthanasia is illegal in Italy, but patients have the right to refuse treatment. It is on that basis that Englaro argued his daughter should be allowed to die, because she had expressed the wish not to be kept alive while in a coma -- indirectly refusing treatment, he said.
E-mail to a friend

All About Euthanasia