By Anne Harding





Children with eczema are more likely to also have attention deficit hyperactivity disorder than those without the skin problem, according to a study.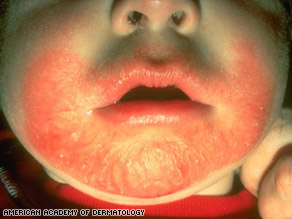 About 20 percent of children in Western nations have atopic eczema by age 6.
The children in the study had atopic eczema, a scaly, itchy skin rash that is typically caused by allergies and is common among infants. The rash often improves as a child gets older, although it does signal an increased likelihood that he or she will go on to develop allergies, hay fever, or asthma. Health.com: What eczema and other rashes look like
German researchers spotted the link in a study of 1,436 children and adolescents aged 6 to 17 who had atopic eczema and 1,436 young people without it. They found that 5.2 percent of eczema patients had ADHD, compared with 3.4 percent of eczema-free youngsters, according to a research letter in this week's issue of the Journal of the American Medical Association.
Young people with atopic eczema were 54 percent more likely to have an ADHD diagnosis than those without it. And the more frequently they had visited a doctor for eczema, the more likely they were to have attention problems, say study coauthors Jochen Schmitt, M.D., a dermatologist at Technische Universität in Dresden, and Marcel Romanos, M.D., a child and adolescent psychiatrist at the Hospital Clinic of the University of Wuerzberg, both in Germany.
About 20 percent of children in Western nations are found to have atopic eczema by age 6. About a third of those children go on to have hay fever or asthma. Health.com: How to allergy-proof your house
"Atopic eczema is highly prevalent in children and it is known to gravely affect the quality of life," Schmitt and Romanos wrote in an email. "Therefore the assumption that it might be related to or influence the presence of psychiatric problems is not far-fetched."
However, the link needs to be confirmed by additional research, they said. It's possible that eczema-related itching or sleep disturbances may exacerbate ADHD symptoms in some children, the researchers suggested. It's also possible that atopic eczema and ADHD could share an underlying cause.
Don't Miss
"It is important to note, however, that this finding might only be relevant for some and not all children with ADHD," the researchers said.
Special diets (for example, regimens that eliminate food additives and sugar) have been proposed for treating ADHD, but the role of diet and food sensitivity in the condition has been highly controversial. No high-quality studies have been able to show that changing a child's diet has any impact on ADHD symptoms, notes David W. Goodman, M.D., an assistant professor of psychiatry and behavioral sciences at the Johns Hopkins University School of Medicine in Baltimore, Maryland.
Some research has linked ADHD to allergic conditions such as hay fever, added Goodman, who directs the Adult Attention Deficit Disorder Center of Maryland in Lutherville, but "the research is in no way conclusive or definitive." Health.com: Celebrities with attention deficit hyperactivity disorder
"The report adds additional circumstantial evidence to our hypothesis" that immune-system factors are involved in ADHD, according to Jan Buitelaar, M.D., Ph.D., of Radboud University Nijmegen Medical Center in Nigmegen, The Netherlands. Buitelaar was not involved in the current study but coauthored a 2008 paper suggesting that ADHD may be an allergic condition in some patients.
"There is data that allergic mechanisms could alter brain neurotransmission and brain functioning," Buitelaar noted via email. He also pointed out that children could develop "disruptive and restless behavior" as a result of the itchiness and pain caused by the skin condition.
While the current findings are "an interesting scientific pursuit," Goodman says, he says they're not that useful in caring for patients. "As yet, it's not ready for prime time clinical practice and runs the risk of delaying otherwise proven effective treatment."
Health Library
Goodman said he has nothing against complementary or alternative approaches, as long as they don't supplant medication and behavioral therapy, which are known to work. Unfortunately, he added, companies that make "nutraceuticals" often take preliminary research and "run with it from a marketing perspective."
He added, "Ultimately, treatment is a combination of medication for ADHD and environmental changes that promote behavioral changes." Health.com: 6 Skin-healthy vacations: Could a getaway solve your problems?
Goodman noted that two out of five studies have found some evidence that omega-3 fatty acids may benefit ADHD patients. "Do my patients take fish oil? Yes, but I have them take fish oil with proven effective medication."
E-mail to a friend

Enter to win a monthly Room Makeover Giveaway from MyHomeIdeas.com
Copyright Health Magazine 2009
All About Attention Deficit Disorders • Eczema • Allergies