By Judy Fortin
CNN Medical Correspondent





ATLANTA, Georgia (CNN) -- For years, Donna Mitchell has tried to lower her cholesterol through diet and exercise. She's had limited success.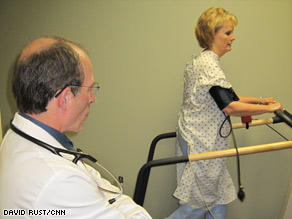 Donna Mitchell's heart was tested by Dr. Robert Superko using standard methods as well as DNA analysis.
Now, she's hoping a cutting edge genetic test will tell her what's really going on in her cardiovascular system.
"I want to live," says Mitchell, a 54-year-old executive assistant from Dacula, Georgia. "I have grandchildren I want to see grow up."
Doctors are able to test for millions of genetic variations for all kinds of diseases through a simple cheek swab and blood test.
Dr. Robert Superko, a metabolic and genetic specialist at St. Joseph's Hospital in Atlanta, Georgia, believes genetic or DNA testing is a more accurate way to find out which patients are predisposed to certain cardiac conditions.
Superko points out that family history is a powerful risk factor for heart disease. Mitchell's father died of a heart attack at age 68; her brother also suffers from heart disease.
"If you have heart disease and you have one of these heart disease genes, then the likelihood that is contributing to your problem is very high," says Superko. "If [the testing] gives you a therapeutic direction, a diet or drug to take, then it becomes valuable."

Watch more on genetic heart testing »
House Call
Watch more on genetic testing this weekend on House Call.
7:30 a.m. ET Saturday and Sunday

While genetic testing is becoming more widely available at research centers around the United States, it can be expensive. Some insurance carriers may cover the cost, but Superko says it can run into the thousands of dollars for some patients.
Mitchell spent about $150 to be tested for two specific genetic traits. The first one is referred to as 9P21, otherwise known as the heart attack gene.
"The heart attack gene, if you have it, indicates that your risk of having a heart attack is higher than somebody else's -- but it doesn't tell you specifically what to do," Superko says. Knowing the gene is present allows doctors to better monitor patients and advise them about necessary lifestyle changes such as diet and exercise.
It turned out that Mitchell tested negative for the gene.
Instead, she received a positive result on her second test, for a gene called KIF6, or the statin responsive gene.
Don't Miss
"If you have this genetic variant and you take a statin drug, your benefit is greater than the average person," says Superko.
Over the years, Mitchell had been told by other doctors that she didn't need to take a statin drug to lower cholesterol.
Superko reassures Mitchell that a daily, moderate dose of the medication will reduce her chances of having a heart attack.
While genetic testing is becoming more commonplace in the medical community, Superko cautions patients not to "run out and order these tests because they are curious."
He warns heart patients to speak with their doctor first, and make sure an expert will take the time to interpret the results.
"It is easy to get confused about test results, especially those received through the mail," Superko says. "You may not understand what they mean and you can get unduly concerned."
Dr. Timothy Gardner, president of the American Heart Association, also worries about the growing popularity of genetic testing.
"At this point, we think it's not quite ready for routine use," he says.
Gardner takes a more conservative approach when it comes to detecting heart disease. He says that while he doesn't see any danger in genetic testing, doctors can often come to the same conclusions through standard clinical exams and checking patients for high cholesterol, high blood sugar and hypertension.
Health Library
Superko says he still includes those conventional measures in his practice. In fact, he ordered Mitchell to undergo a treadmill stress test while she was in his office. But instead of relying on a one-dimensional approach, Superko says he and other specialists are on the cutting edge of a new medical frontier.

Mitchell left the doctor's office with a new prescription for a statin drug and a renewed passion to lower her risk for a heart attack.
"I think you need to take advantage of everything you can to prevent problems," she concludes. "[Genetic testing] was a no-brainer for me."
E-mail to a friend

All About Heart Attacks • American Heart Association • Genetic Testing