By Judy Fortin
CNN Medical Correspondent





ATLANTA, Georgia (CNN) -- It was 10 a.m. on a recent weekday and the emergency room at Scottish Rite Children's Hospital in Atlanta, Georgia, was quiet, except for a little boy crying in room 45.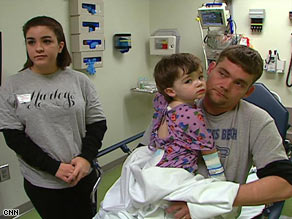 Two-year-old Talan, with Trisha and Jeremy Williamson, has been battling a recurring MRSA infection.
Two-year-old Talan Williamson was battling a painful staph infection. It's not just any infection, but the kind that most parents dread: methicillin-resistant Staphylococcus aureus or MRSA.
"I'm scared," said his mother, Trisha Williamson, 24, of Cartersville, Georgia. "I'm scared and frustrated. I want answers to why we cannot get rid of it."
Doctors claim they are seeing more and more cases of MRSA in children. The bacteria are resistant to most common antibiotics, so they have to turn to a small handful of stronger ones. But doctors want to use the stronger antibiotics as a last resort, fearing that they, too, will become ineffective over time.
According to the Centers for Disease Control and Prevention, an estimated 95,000 people in the United States developed serious MRSA infections in 2005 (the latest data available).
While the CDC cannot say how many children were infected, the agency reported the greatest increase in hospital visits were among those under 18 during an eight-year period ending in 2005.

Watch more on this dangerous staph infection »
Health Minute
Watch for Judy Fortin's Health Minute on Headline News
10 a.m. -6 p.m. ET weekdays

Dr. Martin Belson, a pediatric emergency room physician with Children's Healthcare of Atlanta, experienced the trend firsthand.
"I can't think of a shift where I haven't had a case of an abscess from MRSA," he said.
These days, Belson explained, everyone is at risk, but children are especially vulnerable because of their underdeveloped immune systems.
"It used to be, decades ago, it was just people who were hospitalized or had surgical procedures that were at risk for MRSA. Now, it's becoming more community-acquired," Belson said.
A study published in the January edition of the Archives of Otolaryngology-Head and Neck Surgery revealed a 16-percent increase in pediatric MRSA infections in the head and neck during a recent six-year period.
Belson called the rise alarming. He blamed part of the problem on an increased resistance to the antibiotics used to treat MRSA. He also noted that doctors are recognizing and testing for MRSA more often.
The infection usually starts with red bumps resembling pimples. The site can become swollen and filled with pus.
"It is extremely painful. It's like a deep red color and it sticks out like there is something inside of him, like an egg," said Trisha Williamson, in describing her son's infection on his hip.
Don't Miss
This wasn't Talan's first visit to the E.R. with a MRSA infection: when the boy was 10 months old he developed MRSA on his back and ribs, and had to endure surgery to drain the infection.
Williamson has no idea how he contracted MRSA, but it spread to other family members. She developed a patch on her legs and her 7-year-old stepdaughter had to be treated for MRSA on her knee.
Belson said MRSA is contracted through skin-to-skin contact or by coming in contact with a contaminated surface.
For that reason, he and other experts recommend good hygiene to prevent the spread of infection.
• Wash hands thoroughly with soap and water or use an alcohol-based hand sanitizer.
• Cuts and scrapes should be cleaned and covered with a bandage until they heal.
• Avoid contact with other people's wounds.
• Avoid sharing personal items such as towels or, for older teens and adults, razors.
Belson cautioned parents to resist the urge to demand antibiotics unless they are really necessary.

Finally, he said check with a doctor if any pimple or red lesion seems to be growing or is irritated.
Trisha Williamson said she's tried everything including bleach baths and special cleansers for the shower. "I'm really at wits end," she lamented. "We keep getting it."
E-mail to a friend

All About Staph Infections • Centers for Disease Control and Prevention