By Elizabeth Landau
CNN





(CNN) -- Headaches, big and small, are among the most common health complaints. Almost 90 percent of women and about 70 percent of men get tension headaches, the Mayo Clinic says. Yet doctors still don't know much about what causes them.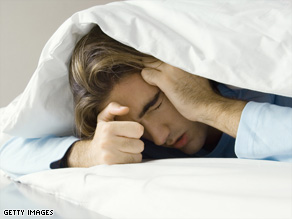 About 18 percent of women and 6 percent of men in the United States report having migraines.
In a new large-scale study published in the journal Neurology this week, researchers found that higher temperatures and, to a lesser extent, low air pressure, influence severe headaches.
But researchers aren't sure how temperature influences headaches, and others say that a slew of other factors could be involved in the connection.
"I think it's more complicated than that," said Dr. Joel Saper, director of the Michigan Head Pain and Neurological Institute in Ann Arbor, Michigan, who was not involved in the study. Temperature and pressure may be indirect evidence of other causal factors.
The study looked at more than 7,000 patients who had come to the emergency room of Beth Israel Deaconess Medical Center in Boston, Massachusetts, between May 2000 and December 2007, all of whom were discharged with a primary diagnosis of some kind of headache. About 75 percent of these patients were women.
Researchers compared environmental factors such as temperature, air pollution and barometric pressure on the day of the patient's visit with a day the week before and a day the week after. They found that the risk of severe headache increases about 7.5 percent for each temperature increment of 5 degrees Celsius (about 9 degrees Fahrenheit).
"Fairly consistently, it was warmer on the days that individuals came in than on control days before and afterwards," said Dr. Kenneth Mukamal, lead author and physician at Beth Israel Deaconess Medical Center.
But as to why temperature is connected to headaches, Mukamal said researchers aren't sure. The physiological connection is not well understood, he said.
Health Library
But Saper said a lot of things happen on hot days that may influence headaches -- for instance, leaving an air-conditioned car to walk outside on a warm day, or being physically active and sweating a lot. It's not clear that temperature itself is the direct link, he said.
"There's no evidence that there's more headaches in hot climates than in cold climates," Saper said. "There are no more headaches in Miami Beach than they are in Boston."
On the other hand, the idea that high temperatures and low pressure are linked to headaches is well known. On a hot day, a person may become dehydrated, which leads to a headache, said Dr. Stephen Silberstein, professor of neurology at Thomas Jefferson Medical Center in Philadelphia, Pennsylvania, who was not involved in the study.
About 18 percent of women and 6 percent of men in the United States report having migraines, the authors said. Experts estimate that the cost of migraines in America is about $17 billion.
While the study found a weaker link between air pressure and headaches, Silberstein said a person going up to a mountain -- where the pressure is lower -- will have a greater chance of getting a headache.
Curiously, the study did not find any association between pollution and headaches, which is surprising given that pollution causes sinus problems, which lead to headaches, Silberstein said.
Researchers in the new study still do not rule out pollution as a factor, Mukamal said.
Migraines, unlike other headaches, are a specific type of chronic headache syndrome. The condition runs in families and is more common among women, Mukamal said. Menstrual cycles and other hormonal factors can influence migraines.
Doctors will sometimes ask migraine patients to keep diaries to see what might influence the headaches and determine how often they occur. They help both doctors and patients track progress, monitoring whether the migraines become less frequent over time, Silberstein said.
Diet can also influence migraines, Silberstein said. Starvation, alcohol and caffeine withdrawal are all important triggers.
Going to sleep at the same time every night and having time to relax are helpful for migraine patients, Silberstein said. He also noted the importance of the environment in physical health and the implications that global warming could have on headaches.
The next step in headache research is to figure out if there are medications that could block the triggering effect of environmental factors on headaches, Mukamal said.
"This highlights the fact that there are very clear clinical consequences to the environment and they don't just affect the old, and the sick, or kids," Mukamal said. "Even garden variety common problems, like migraines and headaches, which affect the whole range of the population, can clearly measurably be influenced by the environment."
E-mail to a friend

All About Headaches