By Judy Fortin
CNN Medical Correspondent





(CNN) -- The first swipe of the electric razor exposed a six-inch patch of bare skin on Dr. Craig Castellino's scalp. Within minutes, the pediatric oncologist with the Aflac Cancer Center in Atlanta, Georgia, was bald.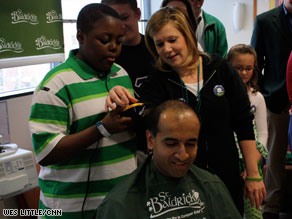 Cancer patient Mack Crittenden shaves Dr. Castellino's head for the St. Baldrick's Foundation Shave-a-Thon.
"It will grow back," said Castellino as he rubbed his newly shorn pate. "It's a small sacrifice if I can help raise some funds for childhood cancer."
Castellino is one of more than 11,000 volunteers who have signed up so far this year to have their heads shaved for a good cause.
That cause is the St. Baldrick's Foundation. The name is a play on St. Patrick's Day and bald heads.
Since it was founded nine years ago, the nonprofit organization has raised $51 million worldwide for cancer research. It holds shave-a-thons, where volunteers -- as in a walk-a-thon -- collect pledges, in this case for getting their heads shaved. So far, Castellino's team has raised more than $8,000 toward its goal of $20,000.
Kathleen Ruddy, executive director of the St. Baldrick's Foundation, which is based in Pasadena, California, admitted shaving heads is an unconventional fund-raising scheme, but she said it works.

Watch Dr. Castellino get his locks shorn off »
"Our volunteers become walking billboards for the cause," Ruddy noted.
In the past four years, St. Baldrick's has funded 18 cancer research fellowships.
In 2008, Castellino was awarded a three-year, $330,000 grant for his work in trying to understand what causes brain tumors in children. Compared with a decade ago, Castellino said researchers are making important progress.
Health Minute
Watch for Judy Fortin's Health Minute on Headline News
10 a.m. -6 p.m. ET weekdays

"Now upwards toward 80 percent of children [with cancer] can be cured, but we're always driving for 100 percent, because that's the goal, to cure everyone," Castellino said.
It's estimated that 160,000 children worldwide get a cancer diagnosis every year.
Castellino said there won't be a cure without money for research. St. Baldrick's is hoping to raise $20 million this year through head-shaving events around the world.
Even Castellino concedes it is a lofty goal during difficult economic times, so he was willing to take part in fund-raising efforts. He was a bit tentative as he made his way through an infusion center to the head-shaving event.
He took a seat in the middle of the room surrounded by pediatric cancer patients tethered to IV poles. A group of parents and oncology nurses joined the crowd.
Thirteen-year-old Mack Crittenden was appointed honorary barber. Assisted by a real hairstylist, the seventh-grader from Flowery Branch, Georgia, started shaving Castellino's head with an electric razor.
In July, Mack learned he had acute myelogenous leukemia, one of the most difficult types of cancer to treat. The teen has been hospitalized for seven months while undergoing intensive rounds of chemotherapy.
His doctors reported Mack is in remission, but they closely monitor his condition while he receives more treatment.
Dressed in a brightly striped green and white polo shirt and blue jeans, you'd never guess Mack was seriously ill. He admitted, however, he was nervous wielding the electric razor.
"I was pretty scared because I didn't want to mess up his hair," Mack said.
Health Library
Castellino said he was nervous, too. He had never participated in a head-shaving event.
As the doctor looked around at some of the young cancer patients, he confided that he had another motive for having his head shaved. Castellino explained part of the mission of St. Baldrick's is to build solidarity with the patients.
"Sometimes, unfortunately, when kids are treated [for] cancer, one of the side effects is that they can lose their hair," he said. "I think it's always helpful to have someone who looks like you around."
When Mack finished shaving Castellino, the professional hairstylist trimmed a few stray hairs and then declared the job was done.
The young cancer patients in the crowd clapped and giggled as the doctor felt his shiny head for the first time.

Castellino shook hands with Mack and then a nurse handed him a small makeup mirror so he could admire his new look.
The doctor smiled and said quietly, "looks good," before heading back to his laboratory.
E-mail to a friend

All About Cancer • Pediatrics