By David S. Martin
CNN Senior Medical Producer





COLUMBIA, Missouri (CNN) -- Eighty-year-old Margie Graf is a health care success story, representing the kind of disease-preventing, cost-saving treatment the Obama administration envisions as it seeks to expand Americans' access to doctors.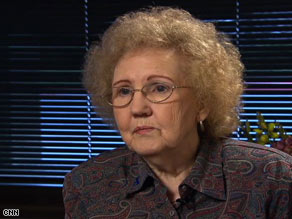 Maggie Graf, 80, was home the day after doctors removed a precancerous polyp found in a routine colonoscopy.
During a routine colonoscopy, Graf's doctor discovered a large, precancerous polyp. Not wanting to undergo major surgery, Graf went to University Hospital, part of University of Missouri Health Care, where the polyp was removed using a tiny needle knife in a procedure new to the United States.
"I just thank God every day that I did, and that it was OK," said Graf, who lives in Barnett, Missouri, and works as a Wal-Mart greeter.
Doctors charged Graf $595 for an endoscopic submucosal dissection, or ESD, less than half of the typical doctor's fee for a hemicolectomy, the traditional surgery for a polyp like Graf's.
Graf was also able to go home a day after her ESD. In a hemicolectomy, a surgeon removes half the colon, a much more serious procedure requiring a longer, far costlier hospital stay and a higher risk of complications.
"I had an opportunity to take care of this lesion, discharge her home next day and bring her back to her normal life," said Dr. Mainor Antillon, who performed the ESD on Graf. "From an economical point of view, ESD is a very cost-effective technique."

Dr. Gupta: Watch more on the cost of preventive care »
Road to Rescue: CNN Survival Guide
Unprecedented reporting on the money meltdown that's changing your life
This week on CNN

President Obama's American Recovery and Reinvestment Act includes $2 billion for health centers to provide primary care, among other things, which means more people will undergo standard tests for cancer and other diseases. The Obama campaign touted preventive medicine as a way to save lives and money.
And Sen. Tom Daschle, at the time Obama's nominee to head the Department of Health and Human Services, echoed that stance in a January Senate hearing: "Our health care system is not oriented toward prevention, and therefore, fails to incentivize the screenings and lifestyle changes that can do so much to improve health. Any health care reform plan must make sure every American has preventative care that prevents disease and disability. ... In addition to being sound medicine, [prevention] is sound fiscal policy."
Don't Miss
But some health experts argue preventive care isn't always cost effective.
"I think it almost always costs more money," said Dr. H. Gilbert Welch, a professor of medicine at Dartmouth Medical School and author of "Should I Be Tested for Cancer."
"The problem with early detection strategies is it identifies so many well people as having abnormalities that may be worrisome for disease. But it turns out most of them will never become a problem," said Welch, who has looked at the costs and benefits of the routine testing patients undergo.
Reality Check: Health Care
18 percent
Percentage of Americans under age 65 without health insurance
25 percent
Americans polled who say cost is the "most urgent" U.S. health problem, topping cancer
$1,946
What the average worker will pay for health coverage at large companies this year
Sources: National Coalition on Health Care, Gallup.com, Hewitt Associates
Welch likens early screening to the check engine light on a car, occasionally picking up abnormalities that don't affect the vehicle's performance. Sometimes, he said, treatments resulting from early detection leave patients worse off.
Case in point: A recent study that examined 15 years of PSA screenings found that prostate cancer had been over-diagnosed -- treating men whose tumors were growing too slowly to ever be a threat.
In addition, the U.S. Preventive Care Task Force, part of the Department of Health and Human Services, says there's not enough evidence to recommend for or against prostate cancer screening men younger than 75 and recommends against prostate screenings for men 75 or older. And the American Cancer Society does not support routine testing for prostate cancer, according to its Web site.
A separate study, published last year in the New England Journal of Medicine, concluded colonoscopies were cost-saving procedures but found other preventive measures expensive. For example, screening all 65-year-olds for diabetes, as opposed to testing only those with high blood pressure, costs $590,000 for every year of healthy living gained.
The study found other treatments both expensive and ineffective. One example: Surgery instead of "watchful waiting" for 70-year-old men with new prostate cancer diagnoses.
The task force also says there's not enough evidence for or against oral cancer screening and favors diabetes screenings in adults with no symptoms only if they have high blood pressure.
Remarkable new imaging techniques do not necessarily lead to better outcomes.
Health Library
A 2007 study in the Journal of the American Medical Association found a three-dimension spiral CT screening for lung cancer was ineffective because it did not reduce lung cancer deaths. It was also potentially harmful because it found many more abnormalities, resulting in unnecessary surgeries.
The American Cancer Society, initially enthusiastic about spiral CT screening, now concludes "no lung cancer screening test has been shown to prevent people from dying of this disease."
Welch said the choice to be tested for disease is a personal one, although he does recommend cancer screenings for people in high-risk groups, such as those with a family history.

Even though Graf's precancerous polyp may never have caused a problem, Graf said she could not ignore it. Graf's husband of 57 years, Oliver, died of colon cancer in 2005.
"I would have worried myself silly," she said.
E-mail to a friend