By Saundra Young
CNN Senior Medical Producer





WASHINGTON (CNN) -- In January, salmonella was linked to peanut products; last week, pistachio products. And on Thursday, the Centers for Disease Control and Prevention said overall infection rates for salmonella and other foodborne pathogens have not changed significantly over the last four years.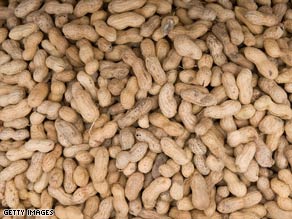 Nearly 700 people in 46 states were sickened by a salmonella outbreak linked to peanuts.
"Progress has plateaued," said Dr. Robert Tauxe, deputy director of the CDC division of Foodborne, Bacterial and Mycotic Diseases. "This indicates to us further measures are needed to prevent future illness."
The findings were outlined Thursday in a new CDC report on foodborne illness.
January's outbreak was traced to peanut butter and peanut products manufactured by the Peanut Corporation of America. As of last month, nearly 700 people in 46 states had been infected with Salmonella typhimurium. The bacterium may have contributed to nine deaths, according to the U.S. Food and Drug Administration.
In last week's case, the FDA announced it was investigating salmonella contamination in pistachio products sold by a California company.
The outbreaks contrast with earlier trends, where infection rates saw significant decreases for most foodborne pathogens.
Tauxe says it's clear that produce has become a bigger contributor to these outbreaks. Still, he says, there's no question the food supply is much safer today.
Nonetheless, food safety advocacy groups found the report disturbing. "This is confirming what a lot of folks have been worried about, which is some of the progress that had been made a few years ago on foodborne illness is now being reversed and we're seeing increased rates again." said Patty Lovera, assistant director of Food and Water Watch. "I think it's not the most encouraging news to see some of the incidents go back up on some of these pathogens."
The new 2008 data, from the CDC's Foodborne Diseases Active Surveillance Network, or FoodNet, was collected from 10 states on nine infectious organisms, including campylobacter, a bacterium that causes diarrhea, abdominal pain and fever and is associated with eating raw or undercooked poultry; cryptosporidium, a diarrheal parasite and one of the most common causes of waterborne disease in the United States; and E. coli, the bacterium responsible for the outbreak linked to spinach in 2006 that resulted in 205 illnesses and three deaths.
While preliminary, the data suggests that gaps in the current system need to be addressed as food moves from the farm to your table.
According to the report, infection rates were highest among children under 4 years old, whereas hospitalizations and fatality rates were highest for people over 50.
The FDA is working to keep consumers informed of the latest food recalls and food safety initiatives, and is hiring more scientists, investigators and inspectors as part of a wide-reaching effort to protect the food supply, the agency said. The report underscores the need for modernization of the system, an FDA official said.
Health Library
"The FDA is embarking on an aggressive and proactive approach in protecting and enforcing the safety of the U.S. food supply," said Dr. David Acheson, associate commissioner for foods. "The FoodNet data indicates a need for a different approach to safeguard the food supply, and the FDA is committed to make the necessary changes to keep unsafe products out of the marketplace before they reach consumers."
Florida, California, North Carolina, Minnesota, Michigan and Massachusetts are working on a pilot program in which teams work with the FDA to react more quickly to potential threats to the food supply, Acheson said. Three additional states are expected to join the program this year.
The report also found that none of the Healthy People 2010 targets, set by the Department of Health and Human Services in 2000 to reduce foodborne illness and death by 2010, had been met last year.
"Lack of progress in reaching Healthy People 2010 goals for foodborne pathogens is not acceptable," said Nancy Donley, president of Safe Tables Our Priority (STOP). Her 6-year-old son Alex died after eating contaminated hamburger in 1993.
"It is clear that current food safety regulatory programs are not effective in reducing the toll of foodborne illness," she said. "We need the setting of strict microbial standards and improved government oversight and inspection of our food supply to ensure that other lives are not cut short and other families will not have to suffer as mine has."
FoodNet was involved in the 2008 investigation of two of the largest salmonella outbreaks in the the country: the Salmonella saintpaul infection associated with imported produce, and the Salmonella typhimurium outbreak linked to peanut butter and peanut products.
E-mail to a friend

All About Food Safety • Centers for Disease Control and Prevention • Food and Drug Administration