By Judy Fortin
CNN Medical Correspondent





(CNN) -- The stress of being unemployed and looking for a new job gives Lucille Jaesson a tension headache almost every day.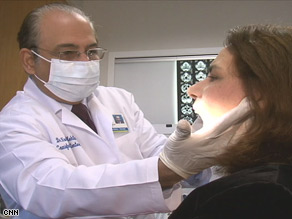 Seeking a more holistic approach for treating her tension headaches, Lucille Jaesson turned to Dr. Mehta.
She described the pain as starting near her temples and radiating down the back of her neck into the shoulders.
"Your muscles feel like a taut rubber band and then it feels like a vise, like someone is pressing inward," Jaesson said.
Jaesson, of Chevy Chase, Maryland, is among tens of millions of people worldwide who complain about the most common form of headache: tension headaches.
Doctors estimate 80 percent of the population will suffer from a tension headache at some point. They can last from 30 minutes to a week. Women appear to suffer from the headaches more often than men.
Researchers suspect tension headaches may be caused by changes in certain brain chemicals such as endorphins and serotonin.

Watch more on tension headaches and how to beat them »
According to Dr. Noshir Mehta, chairman of the Craniofacial Pain Center at Tufts University in Medford, Massachusetts, those aren't the only factors.
"The [headaches] come because of tension, they come because of stress, they come because of sleep problems and they come because of trauma or accidents to the neck," Mehta said.
Don't Miss
"You have a skull and you have muscles attached to the skull and attached to the neck. So what happens is these muscles start to tighten up," Mehta said. The effect, he said, is like someone pushing down on your head.
Jaesson started experiencing problems nearly 30 years ago, after a car accident in high school.
These days she recognizes the onset of a tension headache almost immediately. She said stress is one of the biggest triggers.
"It could be just day-to-day, normal things, but when they pile up, one stressful thing leads to another and before you know it, you've got a full-blown tension headache," Jaesson said.
For years, she took over-the-counter pain relievers. But doctors say beware: Pain medications won't cure headaches; they'll only relieve the symptoms.
In fact, some experts caution patients that, over time, certain medications may stop working effectively and may actually cause rebound -- or overuse -- headaches. Mehta said patients often have to be weaned off those drugs to avoid rebound headaches.
Keeping a headache calendar or log might help track the time and location of a headache, each of which can be useful to doctors for making a proper diagnosis.
After years of living with chronic pain, Jaesson has now turned her focus to alternative medicine techniques and stress reduction instead of drugs.
She learned about the holistic approach from Mehta. He recommends his patients try everything from acupuncture to exercise and good nutrition to wearing mouth guards during sleep.
As a dental specialist, he examines all his patients for bruxism, or teeth grinding. "Imagine if you are clenching all night long and your neck muscles are stiff. By the morning, you wake up with a headache," Mehta said.
Health Library
Jaesson recently invested in a mouth guard. She practices meditation and yoga daily to help with stress reduction.
She's also taken a closer look at her diet, eliminating caffeine and other food additives. "If I eat sort of cleaner, healthier food, I feel better than if I have caffeine or foods that make me feel stuffy. I tend not to eat wheat or sugar," she said.
Mehta called his approach multidimensional. "We have the medications, but we also get people into physical therapy ... and psychological relaxation therapy, because we find that anything that can help a person relax the muscles and relax the body is going to help the person," he said.

"Most headaches are treatable ... you don't have to live with it. The pain can be treated," Mehta said.
That's good news for Jaesson, whose goal is to get rid of her headaches and to feel better.
E-mail to a friend

Linda Ciampa contributed to this report.