By Karen Pallarito





A handful of people with type 1 diabetes have been able to survive without insulin shots for more than two-and-a-half years, on average, after having their own blood stem cells removed and reimplanted through intravenous injection, U.S. and Brazilian researchers reported Tuesday.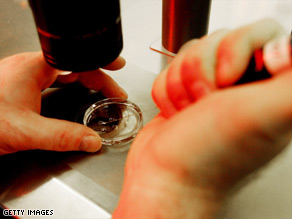 Patients had their own blood stem cells removed and reimplanted through intravenous injection.
Overall, the technique has been tried in 23 people, mostly boys and young men, who were treated within six weeks of a new diagnosis of type 1 diabetes. People who have type 1 diabetes, an autoimmune disease that destroys the insulin-producing cells in the pancreas, typically need insulin shots to survive. (People with type 1 make up only about 10 percent of all diabetics; most people have type 2, which can be controlled with diet, exercise, oral drugs, or insulin shots.)
After the transplant, 20 of the 23 patients became insulin-free for at least a few months or even years. Twelve of them stayed free of insulin for an average of 31 months and eight patients had periods ranging from six to 47 months in which they were free from insulin. Health.com: A surprising new lip benefit -- stem cells
One patient was free of daily insulin for more than four years before needing insulin shots, according to the report in the Journal of the American Medical Association. The stem cell transplants were performed at a single center in Brazil.
The new findings are "very encouraging," says Dr. Richard K. Burt, associate professor of medicine at Northwestern University's Feinberg School of Medicine, who presented the findings at a Washington press briefing. Still, he said, more study is needed before it's known whether the treatment truly alters the course of the disease. "I never use the word 'cure,'" says Burt, who is also chief of the Division of Immunotherapy and Autoimmune Diseases at Northwestern Memorial Hospital in Chicago, Illinois. "We just have to wait and see."
Don't Miss
Two years ago, Burt and colleagues showed that 14 of 15 patients (who were also included in the new study) treated this way were able to go without insulin injections for one to 35 months, but it wasn't clear if this was due to closer medical follow-up and lifestyle changes. In the new study, the researchers measured a protein that suggested the patients did indeed have insulin-producing beta cells, which are typically destroyed by the autoimmune disease.
So far, stem cell transplantation is the only therapy shown to reverse type 1 diabetes in humans, the research team noted. Health.com: Eating to control cholesterol -- everyday diet strategies to lower LDL
However, Dr. Mohamed El-Shahawy, a transplant nephrologist and a member of the islet cell transplantation team at City of Hope in Duarte, California, cited a number of concerns around the study and risks to patients.
"This study basically subjects patients to an unproven high-risk procedure," he said. "Could it be a breakthrough? I don't see it."
The procedure can be risky. After harvesting stem cells from blood samples, the patient is given chemotherapy to suppress the immune system. Then the stem cells are returned to the patient through intravenous injection.
Transplanting a person's own stem cells (which are made by bone marrow and can be found in blood) may "reset" the body's immune system. This may allow the insulin-producing beta cells in the pancreas to either mend themselves or regenerate. Health.com: Head-to-toe solutions for stress
Health Library
The greatest risk is that a patient will die of an infection, Dr. Burt says. While there were no deaths in the study, two patients developed pneumonia and three patients had problems with endocrine function and nine developed sperm deficiency.
In a related editorial, Dr. Christopher D. Saudek, of Johns Hopkins University School of Medicine in Baltimore, Maryland, notes that there isn't likely to be a cure for type 1 or type 2 diabetes any time soon. For now, he said, patients need to use all the therapies that are currently available.
"A great deal of the morbidity and reduced quality of life among patients with diabetes, as well as substantial societal expense, could be avoided or reduced by taking full advantage of therapies available today," he wrote. Health.com: 10 easy ways to eat natural
The Juvenile Diabetes Research Foundation also cited a number of issues that need to be addressed before such a procedure would become available to patients. While not involved in the study, the foundation says "it does provide some intriguing results that bear further investigation."
E-mail to a friend

Enter to win a monthly Room Makeover Giveaway from MyHomeIdeas.com
Copyright Health Magazine 2009
All About Stem Cell Research • Diabetes