By Saundra Young
CNN





WASHINGTON (CNN) -- The Obama administration released a draft of guidelines for federal funding of human embryonic stem cell research Friday.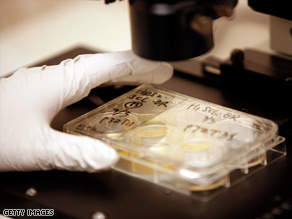 The rules allow stem cell federal funding only for embryos created solely for reproduction by in vitro fertilization.
Under the new guidelines, federal funding would be allowed only for research using human embryonic stem cells from embryos created solely for reproductive purposes by in vitro fertilization. The embryos would have to no longer be needed for reproduction, and the donors would have to consent to their use for research.
Funding for research using adult stem cells and induced pluripotent stem cells will continue. Funding will not be allowed for stem cells obtained from other sources, including somatic cell nuclear transfer, also known as cloning; in vitro fertilization embryos created specifically for research purposes; and parthenogenesis, the development of an unfertilized egg.
In March, the administration asked the National Institutes of Health to draft guidelines that would address both scientific and ethical concerns.
"We considered the range of ethical issues and we believe this policy will allow substantial research that is ethically responsible and scientifically worthy," said Dr. Raynard Kington, the institutes' acting director. "We believe this is our best judgment now about a reasonable policy at this time."
Kington called this "an important day for science," saying there are reports that up to 700 stem cell lines might be available. And while it's impossible to estimate how many meet the guideline standards, he said, "We believe many of the lines that exist now that were not eligible under previous policy would be eligible under this policy."
In August 2001, George W. Bush became the first president to allow federal money to be used to fund embryonic stem cell research, limiting it to about 60 existing stem cell lines created from embryos already frozen in fertility clinics. As of October, according to the National Institutes of Health, there were 88 lines that qualified for federal funding, but only 21 actually available to researchers.
Embryonic stem cells are taken from the lining of 4- to 5-day-old embryos. Removal of the stem cells destroys the embryo -- one of the main reasons the research is so controversial and its opponents so passionate.
Researchers have long believed these stem cells hold the keys to important discoveries and treatments for conditions such as Parkinson's disease, amyotrophic lateral sclerosis, spinal cord injuries, heart disease and diabetes.
The American Society for Reproductive Medicine and other groups say the new policy is long overdue.
"Federally funded scientists will soon be able to put forward research proposals to help us unlock the full potential of human embryonic stem cells," it said in a written statement. "That work may eventually yield treatments for some of our most stubborn ailments; it may lead to a new set of research tools, but whatever direction the research points to, we are now closer to answers."
But opponents of the research say it is not sound science and destroys human life.
"The NIH draft guidelines demanded by the president will do nothing to advance stem cell research that is showing near-term benefit for suffering patients," said Tony Perkins, president of Family Research Council.
Health Library
"Instead of funding more embryo destructive research, the government should fund research using adult stem cells that are on the cutting edge of treating patients for diabetes, spinal cord injury, heart disease and various cancers. Unfortunately, this draft guidance only diverts limited federal resources to unethical stem cell research that has not successfully treated a single person for any disease."
Federal research dollars have long been available for adult stem cell research, but, unlike embryonic stem cells, which have the potential to turn into any organ or tissue cell in the body, they are much harder to turn into completely different cells.
The new regulations will be posted on the Federal Register next week for a 30-day public comment period. Final guidelines are expected on or before July 7.
"Our goal," said Kington, "is to advance science and promote health. And we believe these guidelines will be used to improve the human condition."
E-mail to a friend