By Theresa Tamkins





The Centers for Disease Control and Prevention is investigating two cases of swine flu detected in children in the San Diego, California, area last week.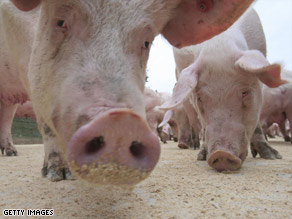 Swine flu is usually diagnosed only in pigs or people in regular contact with them.
Swine flu is caused by a virus similar to the regular flu virus that circulates in people every year, but is a strain that is typically found only in pigs or in people who have direct contact with pigs.
The children were infected with a virus known as swine influenza A H1N1, which has a unique combination of genes not previously seen in flu viruses in either humans or swine - although it shares similarities with a virus that has been circulating in pigs since 1999.
Typically one person in the United States is infected with swine flu every one to two years, although there have been 12 cases in the three-year period between December 2005 and January 2009. Most of the time, people who get sick from swine flu have been in contact with pigs, and the virus doesn't spread from person to person. Health.com: Can't stop coughing? 8 causes of chronic cough
Since neither of the two children, a 10-year-old boy and a 9-year-old girl, had contact with pigs, it "increases the possibility that human-to-human transmission of this new influenza virus has occurred," according to a CDC report. The girl did attend an agricultural fair four weeks before becoming sick, she said, but did not have any contact with pigs or other livestock. Family members of both children also had flu-like symptoms, but it's not clear whether they were infected with the same virus since samples weren't taken when they were ill.
Both children had a fever and cough in late March, and one child vomited. The children, who live in the adjacent San Diego and Imperial counties in Southern California but had no known contact with one another, have since recovered.
"We've only got the two cases to go on and both kids recovered on their own, so that's certainly good news," says Tom Skinner, a CDC spokesman. How to beat allergies and more on your next tun
The boy did travel from California to Dallas, Texas, on a trip to visit family members and the CDC is reaching out to crew members on that flight to see whether any other people experienced flu-like symptoms, says Skinner.
"He was probably at the tail end of his illness, but yes, he was symptomatic," he says. "We're just reaching out to crew members at this point. Based on what we learn from that initial outreach, if we feel like we need to reach out to other passengers on the plane, we will."
Health Library
These types of investigations are designed to "get a better handle on just how transmissible this virus might be," says Skinner. "When we see the introduction of a new flu virus from animal into humans that's one of things we're interested in: understanding how efficiently is the virus transmitted and how sustainable is the virus transmission from person to person."
The virus seems to be resistant to treatment with the antiviral drugs amantadine and rimantadine. It's not clear yet whether the virus is resistant to other drugs, such as oseltamivir and zanamivir. Quiz: Surprising migraine causes and cures
Skinner says "we're still early in the course of learning about it, but as far as the general public goes there's nothing they need to be doing differently today than what they were doing yesterday when it comes to their knowledge and behavior about preventing flu."
The most famous outbreak of swine flu in the United States occurred in 1976 in recruits at Fort Dix, New Jersey. The cases triggered fear of a pandemic - largely because the lethal 1918 flu pandemic was thought at the time to be a result of a swine flu mutation - that resulted in more than 40 million people being vaccinated. The program was later criticized when a swine flu pandemic did not materialize and a number of cases of vaccine-related side effects were reported.
E-mail to a friend

Enter to win a monthly Room Makeover Giveaway from MyHomeIdeas.com
Copyright Health Magazine 2009
All About Influenza • Centers for Disease Control and Prevention