By Val Willingham
CNN Medical Producer





(CNN) -- Ahmed Hamdi wants to be a superhero when he grows up. A lot of people at his school will tell you he already is one.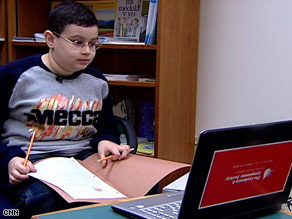 Third-grader Ahmed Hamdi, undergoing treatment for leukemia, connects to his classroom via satellite.
A third-grader at Samuel W. Tucker Elementary School in Alexandria, Virginia, Ahmed hasn't seen much of his class in the past few months. That's because he was diagnosed with leukemia 1½ years ago. Although he's in remission, he's still susceptible to complications.
"Ahmed has shown us, over and over again, he gets a fever at the drop of a hat, and has been in the intensive care unit several times. He tends to get infections a lot," says his doctor, Dr. Aziza Shad, an oncologist in the children's ward of the Lombardi Cancer Center in Washington. Shad notes he is otherwise doing very well and has "an excellent prognosis."
So for now, Ahmed is homebound and only goes to school two days a week.
In order to keep him connected to his classroom and his schoolmates, Lombardi has given Ahmed and his teacher, Lynda Decker Gallagher, laptop computers, so Ahmed can 'go' to school while he's recovering, either at home or in the hospital.
On a day Ahmed is home, he sets up the laptop, hits a few buttons and -- like magic -- he's transported by satellite into his homeroom. Gallagher, along with his friends, are able to talk to him by computer and he to them. It gives Ahmed an opportunity to catch up on homework and interact with schoolmates he would otherwise see less often.

Watch more on Ahmed and how he stays connected »
Gallagher feels it's working. "I think it will help him connect with his classmates and it will help him stay involved in school; he'll know what's going on when he's not here," she says. "He currently comes two mornings a week, and [on] those other days he would be at a loss as to what we were doing."
Don't Miss
Ahmed's mother, Nahla Kamel, says his illness has been tough on him because he likes to be with people. "He loves school. It's [a] shame he has to be away from it," she says, adding that even though he'd like to be at school, now is not a good time. "We need to make sure he is free from problems, so it's good he gets to see his friends through this computer."
Not only is the tele-connection good for Ahmed's socialization, it's also a crucial part of his long-term recovery. The American Academy of Pediatrics says studies show that kids who have gone through long-term illnesses often feel isolated or disconnected when they return from their treatment, which can lead to bouts of depression and lack of self-worth.
Shad agrees. "We find over and over again that if you don't provide them the means to communicate with their friends and their neighbors, these children do have psychological problems," she says. "It's difficult to adjust to school, it's difficult to adjust back to a normal life once the treatment is done, so this webcam program allows them to communicate regularly."
Health Library
Right now, Lombardi Cancer Center has enough equipment to set up communication lines for six young patients and their school systems. Shad says the criteria is simple: "We have to choose [the patients] based on the disease, the kind of intensive treatment they are getting, and how much time they are spending away from the school setting." She hopes more computers can be supplied to the kids who need them as funding becomes available.

As for Ahmed, although he'd rather be in class with his fellow students, he says the setup isn't bad, although there are a few technical glitches. "I can't hear them very well sometimes," he says. He also can't always do every part of a class lesson. "I don't get to do the experiments," he says with a sigh. But he hasn't fallen behind in his studies.
Even though Ahmed says the computer is a "good thing," he hopes one day soon to pass his laptop on to another child and go back to walking the halls of Tucker Elementary, letting his teachers and classmates know their superhero has returned for good.
E-mail to a friend

All About American Academy of Pediatrics • Leukemia