By Ed Lavandera
CNN






RICHLAND HILLS, Texas (CNN) -- The machines are buzzing as dozens of workers package freshly made surgical masks. More than 1 million will be made in one day inside Prestige Ameritech's manufacturing facility near Fort Worth, Texas.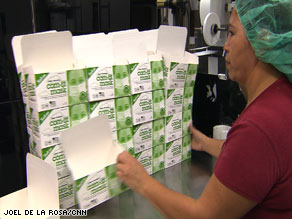 Prestige Ameritech in Texas will be making surgical masks around the clock because of the swine flu outbreak.
The swine flu outbreak has made this small company a big deal.
"Everyone knows who we are now," said Mike Bowen, executive vice president of the surgical mask manufacturer. "It's actually been pretty crazy."
Prestige Ameritech is ramping up production. For the first time in the company's history, it will be manufacturing masks 24 hours a day, seven days a week. Bowen also is looking to hire up to 20 workers to handle the workload.
Ever since Bowen and his business partner, Dan Reese, showed up to work Monday morning, the phones haven't stopped ringing. With the World Health Organization and national governments confirming cases of swine flu in at least 11 countries, orders for masks are coming in from around the world.
"We're still trying to get a handle on everything," Bowen said.
Prestige Ameritech is the only surgical mask manufacturing company in the United States. Most surgical masks are made in Mexico and China. The company, with a workforce of 80 people, makes masks for major distributors, like 3M, who sell the masks to hospitals and doctors across the country.
Health care suppliers say if the swine flu outbreak becomes a pandemic, it could severely strain hospitals' efforts to get necessary equipment like masks, gloves and antibiotics.
"What this situation should teach us is that we need to take a critical look at where we source pandemic supplies and in what quantities," said Mike Alkire, president of Purchasing Partners for Premier Inc., a North Carolina-based healthcare improvement alliance with a division that negotiates supply contracts for its more than 2,100 member hospitals.
Don't Miss
"We feel that they are in good shape overall, provided the disease doesn't overwhelm our current resources or spread to a large number of additional communities," Alkire said.
With Prestige Ameritech operating at capacity, Bowen worries that a pandemic would create a surgical mask shortage in the United States.
The first cases of swine flu in humans were detected in Mexico, where health officials suspect the virus in more than 150 deaths. Scenes of Mexican citizens walking city streets with masks are playing out daily. The Mexican government has handed out masks to the public. Bowen says the United States is not equipped to handle that kind of demand.

Learn about swine flu and how to treat it »
"Surgical masks are used in hospitals. They're not used in the general public," Bowen said. "So when the general public starts wanting face masks, the supply gets short really quickly."
He added: "If there's a pandemic, America won't be able to supply its own needs, because we're pretty much it."
Bowen said that if the situation gets worse worldwide, countries like China and Mexico would keep surgical masks for their own citizens.
Health Library
He said he wants to make sure the surgical masks are going to health care professionals and not brokers looking to take financial advantage of this health scare.

The shortage of American surgical-mask manufacturers is a critical weakness in the country's ability to battle a pandemic outbreak, he said.
"Hopefully, this isn't the big one," Bowen said. "What we're hoping is that this is just a wake-up call."
E-mail to a friend