From Elizabeth Cohen
CNN Senior Medical Correspondent





ATLANTA, Georgia (CNN) -- When the World Health Organization raised its influenza pandemic alert from a Phase 4 to a Phase 5 last week, there was a bit of a gasp heard round the world.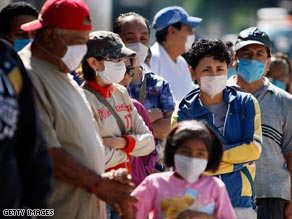 News about the pandemic sent people to line up at a mobile health clinic in Mexico City.
After all, Phase 5 "is a strong signal that a pandemic is imminent," according to WHO.
"All countries should immediately activate their pandemic preparedness plans," the organization's director-general, Dr. Margaret Chan, said Wednesday. "After all, it really is all of humanity that is under threat during a pandemic."
But the word "pandemic" isn't quite as scary as it sounds, explained David Ozonoff, professor of environmental health at the Boston University School of Public Health.
"When people hear the words 'pandemic' and 'flu,' the first thing that comes to mind is 1918, which was a real horror show," Ozonoff said, referring to the flu pandemic that killed some 50 million people 91 years ago.
But you can have a pandemic without a large number of deaths, he said.
"The word pandemic refers to how widely dispersed a disease is, not to how severe the disease is," he said
Confusion about the meaning of "pandemic" is understandable, Ozonoff said, considering the definition of the word is "not set in stone."
Until Monday morning, the WHO had a definition on its Web site saying that a pandemic flu causes "enormous numbers of deaths and illness." After a CNN reporter pointed this out, WHO spokeswoman Natalie Boudou called back to say the definition was in error and had been pulled from the WHO Web site.
"It was a mistake, and we apologize for the confusion," she said. "(That definition) was put up a while ago and paints a rather bleak picture and could be very scary."
The correct definition is that "pandemic" indicates outbreaks in at least two of the regions into which WHO divides the world, but has nothing to do with the severity of the illnesses or the number of deaths.
Don't Miss
Based on lessons from the past, "influenza may cause mild disease in affluent countries, but more severe disease, with higher mortality, in developing countries," Chan said at Wednesday's news conference.
There have been three influenza pandemics in this century, said Andrew Pekosz, associate professor of microbiology and immunology at Johns Hopkins University's Bloomberg School of Public Health. The other two, in 1957 and 1968, also were caused by new viruses to which no one had immunity, but didn't cause nearly the number of deaths as the one in 1918.
"I think people need to be reminded that this current H1N1 outbreak is going to resemble much more the pandemics in 1957 and 1968, where there was an increase in deaths from other years, but nothing like the millions of deaths we saw in 1918," Pekosz said.
E-mail to a friend

All About World Health Organization • Swine Flu