(CNN) -- A Texas woman who had swine flu has died, officials said Tuesday, marking the second death in the United States linked to the virus and the first of a U.S. resident.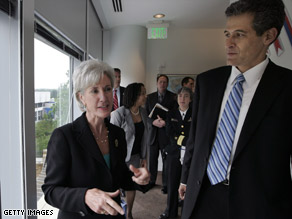 Kathleen Sebelius and Dr. Richard Besser tour part of the CDC on Tuesday in Atlanta, Georgia.
The news came as officials in the United States and Mexico, where the outbreak of the H1N1 virus started, were voicing hope that the worst of the new flu strain may be over.
The woman, who died earlier this week, was from Cameron County on the edge of the Gulf of Mexico. The Texas Department of State Health Services said the woman had "chronic underlying health conditions," but did not provide more details.
Dr. Brian Smith, regional director for the department, confirmed the virus was linked to the woman's death and told one CNN affiliate there was "one death confirmed in Cameron County from H1N1 influenza." But speaking with CNN affiliate KRGV-TV, he stopped short of saying it killed her.
"It's certainly part of the clinical picture," Smith said.
The Texas medical examiner's office told CNN the woman had been sick for about a month.
The United States' first death from swine flu came last week: a toddler whose family was visiting Houston, Texas, from Mexico.
By Tuesday afternoon, the number of confirmed cases of the H1N1 virus stood at 1,490 in 22 countries, according to the World Health Organization and the Centers for Disease Control and Prevention. That number includes 822 confirmed cases in Mexico.
WHO has confirmed 30 deaths worldwide from the virus, including 29 in Mexico. The count did not include the most recently reported death in the United States.
There were 403 confirmed cases of the swine flu in the United States, according to the CDC, and another 693 suspected cases counted by various state agencies.
The 403 confirmed U.S. cases are in 38 states, most of them in New York (90), Illinois (82), California (49) and Texas (42), the CDC said Tuesday.
Meanwhile, U.S. officials now recommend that schools stop closing when a case of swine flu is confirmed at a school, Health and Human Services Secretary Kathleen Sebelius said Tuesday.
Scientists believe the H1N1 virus epidemic is no more dangerous than seasonal flu, and schools should act accordingly, Sebelius said.
"This virus does not seem to be as severe as we once thought it would be," she said at the CDC in Atlanta, Georgia.
Sick students should be kept home for seven days, she said, "but the schools should feel comfortable about opening."
Schools that have been closed can reopen, Sebelius said.
Dr. Richard Besser, the CDC's acting director, said that closing schools in a pandemic has a definite benefit. But closing during a general flu outbreak is not required, he said.
"When you get to situations that are approaching general flu, then the downside of closing schools outweighs the benefits," Besser said.
And federal officials have been hearing from local officials "how incredibly difficult and burdensome school closure is," he said.
In Mexico, officials announced plans to reopen government offices and restaurants Wednesday and museums, libraries and churches the following day, citing improvement in the battle against the virus.
U.S. Homeland Security Secretary Janet Napolitano acknowledged claims by Mexican authorities who believe that their cases have peaked.
"I have no reason to think that is inaccurate," Napolitano said.
"What the epidemiologists are seeing now with this particular strain of H1N1 is that the severity of the disease, the severity of the flu -- how sick you get -- is not stronger than regular seasonal flu."
Health officials have begun using the virus's clinical name, H1N1, to reflect that it's a combination of several different types of flu and to reduce confusion about whether eating pork can spread the virus, which it cannot.
Officials from WHO and the CDC plan to monitor developments in the Southern Hemisphere, where flu season arrives over the next few months as winter begins there.
Those results will help determine whether a stronger strain of the virus will return to the United States and the Northern Hemisphere during the fall flu season.
In Mexico City, about 35,000 public venues were shut down, transforming the bustling metropolis of 20 million people into a ghost town overnight.
Soccer games were postponed, restaurants served only takeout orders, and Sunday Mass -- which usually draws millions of worshippers -- was canceled.
"It's surreal to say the least. And the masks add to that," said Cristiano Oliveira, a Brazilian living in Mexico City for the past year and a half. "There was, to me, at least the impression that Mexico City would never slow down. And now it's halted."
In the city's Condesa neighborhood, Alfredo Sono Dillman whiled away the days watching movies on a home computer.
"We all live inside our houses, because the schools have been canceled until May 11," the 15-year-old said. "I'm not scared like last week. This week has been easier. Now we know much better what is going on."
Early Tuesday, the Mexican and Chinese government sent chartered flights to each other's countries to pick up their respective nationals stranded or quarantined because of the global swine flu outbreak.
An Aeromexico flight made several stops Tuesday throughout China to collect nearly 70 Mexican citizens who were being held in quarantine across the communist nation as part of its strict swine flu-control measures.

Watch as Mexicans begin the journey home »
At least two Mexicans remained in quarantine in Beijing. Meanwhile, a U.S. Embassy official said four Americans are or were quarantined in China: two in Beijing and two in southern Guangdong province.
China suspended all flights into and out of Mexico after a 25-year-old Mexican man who arrived Thursday in Shanghai from Mexico City became the Asian country's first confirmed case of the virus.
As a result, 200 Chinese citizens were stranded in Mexico City and Tijuana. A China Southern Airlines flight was expected to fetch them Tuesday, state media said.
Also Tuesday, the U.S. Navy said it has canceled the deployment of one of its ships because of a number of possible cases of swine flu.
The USS Dubuque, an amphibious transport dock ship, was due to deploy June 1 to the South Pacific on a humanitarian mission, according to Cmdr. Joseph Surette, a Navy spokesman.
He said there was one confirmed case of H1N1 virus and 49 possible other cases among crew members over the past several days. The 50 crew members are off the ship recovering and being given Tamiflu medication, Surette said.

The ship is being scrubbed and disinfected, and the remaining 370 crew members are being given Tamiflu as a precaution, according to Surette.
WHO officials said there were no immediate plans to raise its pandemic alert to the highest level, 6.
E-mail to a friend

CNN's Barbara Starr and Mike Mount contributed to this story.
All About Swine Flu • Mexico • World Health Organization