(CNN) -- The World Health Organization on Saturday reported 3,440 confirmed cases of swine flu in 29 countries, with 48 deaths from the sickness.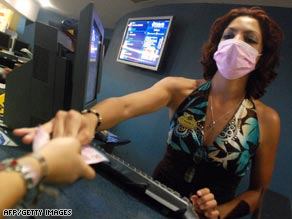 A movie theater attendent in Guadalajara, Mexico takes precautions at work.
The virus, also called H1N1, has spread as Australia reported its first confirmed case.
On Friday there were 2,500 confirmed cases in 25 countries.
In the United States, the total number of confirmed cases was 1,639 -- the same as Friday. Of the 48 deaths reported, two were in the United States, one was in Canada and 45 were in Mexico.
Italian authorities also said Saturday that the country had its first case that was not contracted overseas. A 2-year-old boy may have contracted it from family members who had returned from Mexico, Italian health officials said.
Meanwhile, Britain's health secretary announced Friday that his country's Health Protection Agency had sequenced the full genetic code of the H1N1 virus, the first step in producing a European prototype of a swine flu vaccine.
"This is critical in understanding how the virus operates and identifying the crucial parts of the virus that can be used in vaccine manufacture," said a statement from the agency.
"Researchers hope that European manufacturers will be able to take delivery of candidate vaccine prototypes in the coming months so preliminary steps to mass vaccine production can begin," the statement said.
E-mail to a friend

All About Swine Flu • Centers for Disease Control and Prevention • World Health Organization