By Val Willingham
CNN Medical Producer





(CNN) -- If you didn't catch the white coat and the stethoscope, you might take Dr. Mike Miller for a middle-aged rocker, roaming the halls of the University of Maryland Medical Center in Baltimore.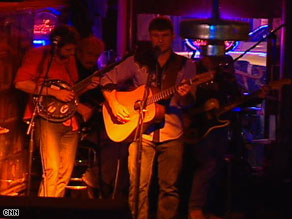 Playing or listening to music can create a feeling of well being, which affects the vascular system.
For years, Miller, a research cardiologist, has been studying the effects of happiness -- or things that make people happy -- on our hearts. He began his research with laughter, and found watching funny movies and laughing at them could actually open up blood vessels, allowing blood to circulate more freely.
Miller thought, if laughter can do that, why not music? So, he tested the effects of music on the cardiovascular system. "Turns out music may be one of the best de-stressors -- either by playing or even listening to music," said Miller.
The setup was basically the same as with the laughter study: Using high-tech imaging, Miller measured blood vessel size as people listened to music.
The results did not surprise Miller. "The inner lining of the blood vessel relaxed, opened up and produced chemicals that are protective to the heart," he said.
But when participants listened to music they didn't particularly enjoy, Miller said, "the vessels actually began to close up."

Watch Dr. Gupta explain how music helps the heart »
That's exactly what tension -- or stress -- does.
Long-term stress can wreak havoc on the cardiovascular system. Over time, it can cause blood vessels to stiffen and become rigid, constricting blood flow. As people get older, arteriosclerosis, or hardening of the arteries, becomes a problem. Constricted vessels can cause blood pressure to rise and increase the risk of heart attack and stroke. Stress can also suppress the immune system, contribute to infertility and impotence, speed the aging process and even rewire the brain, leaving people more vulnerable to anxiety and depression.
But music can counter the effects of stress. "It gives us an overall feeling of good, well-being -- a sense of euphoria in some cases," Miller said.
A recent study out of Stanford University found elderly patients who were diagnosed with depression gained self-esteem and saw an improvement in their mood when they were visited by a music therapist.
In fact, many hospitals across the country use music therapy to help patients heal. The Mayo Clinic in Rochester, Minnesota, uses music as part of its cardiovascular surgery healing program to "promote relaxation and reduce tension, stress and anxiety." Because music helps these patients relax, it decreases their pain, improves their moods and helps them to sleep better, especially during recovery.
Health Library
Miller has not only seen these same results in some of his patients who use music therapy, but he said he also believes music can be so relaxing that it can actually keep the body young. "We would like to believe that it may slow down the aging process," he said.

But be careful what you listen to. Whether you like Beyoncé or the B-52s, Chopin or Johnny Cash, Miller found that listening repeatedly to the same tune diminished the music's effects on the body. "You just don't get that boost if you listen to the same song over and over again," he said. "You need to vary your songs, so when you hear the song fresh, it brings back the sense of joy and opens up the system."
So, the next time your boss gets on your nerves, or the kids are driving you crazy, or the car breaks down, don't start pulling out your hair. Instead, turn on the radio, grab your iPod or pop in a CD, and let the music carry you away.
E-mail to a friend