NEW YORK (CNN) -- An assistant principal of a New York middle school who was hospitalized with the H1N1 virus, commonly known as swine flu, died Sunday from flu complications, hospital and state officials said.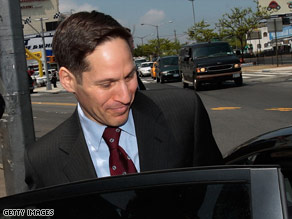 New York City Health Commissioner Thomas R. Frieden reports a rising tide of flu in the city.
It's the sixth death in the United States that health authorities have linked to the virus.
"It is with great sadness tonight that we learn that New York has lost one of its residents to an illness related to H1N1," New York Gov. David Paterson said.
Mitchell Wiener, 55, assistant principal at Intermediate School 238 in Queens, died at 6:17 p.m. Sunday, said Andrew Rubin, a spokesman at Flushing Hospital.
"We believe he had complications of the swine flu," Rubin told CNN Radio, adding that once Wiener was admitted to the hospital, he was listed in critical condition. However, he wouldn't say whether Wiener had any pre-existing medical conditions.
Last week, when city and state officials announced that four students were infected and that a school official in Queens was "critically ill" with the virus, Mayor Michael Bloomberg did not name the official but described the staffer as an assistant principal who "may have had other health problems."
Don't Miss
"We're trying to identify that and ascertain whether those problems were exacerbated by the flu or whether it's totally unrelated," Bloomberg said at the time.
Since the H1N1 outbreak surfaced last month, the Centers for Disease Control and Prevention has linked four U.S. deaths to swine flu: a Mexican toddler who was visiting with her family in Texas; a pregnant Texas woman who had been on life support since April; a Washington state man with heart problems who died from flu complications; and an Arizona woman with lung disease.
The Texas Department of State Health Services said Friday that the death of a Nueces County man in his 30s was linked to swine flu. Wiener's case is the sixth U.S. death linked to H1N1.

Learn more about the H1N1 influenza virus »
All had pre-existing medical problems.
Wiener's school is one of eight temporarily closed in New York due to flu concerns.

"We are now seeing a rising tide of flu in many parts of New York City," Thomas R. Frieden, the city's health commissioner, said earlier Sunday. "With the virus spreading widely, closing these and other individual schools will make little difference in transmission throughout New York City, but we hope will help slow transmission within the individual school communities."
The flu strain, which originated in Mexico, killed dozens of people there, causing U.S. officials to worry that it could take a similar toll after spreading across the border. But it has thus far acted similar to typical seasonal influenza, which usually can be treated successfully but can be deadly among the very old, very young and people with pre-existing health problems.
E-mail to a friend

CNN Radio's Patty Lane contributed to this report.
All About Swine Flu • Flushing (New York) • Centers for Disease Control and Prevention • New York City