By Leslie Wade
CNN





(CNN) -- Ken Gehle first noticed something was wrong about a year ago: He'd sit down to dinner and the first bite of food seemed to get stuck in his throat.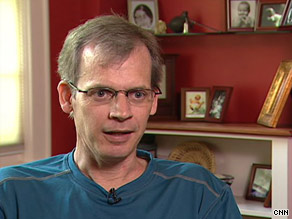 The social networking site CaringBridge helped cancer survivor Ken Gehle stay positive during treatment.
"As soon as I would swallow or take a big swig of liquid and swallow, I'd be fine," explained Gehle.
A few months later he started hiccuping at mealtimes. When antacids didn't bring relief, his doctor decided to take a closer look.
"They scoped me, did a biopsy and there it was," said Gehle. At age 45, the father of two learned he had esophageal cancer. He had surgery to remove a tumor and began chemotherapy and radiation.
While Gehle was getting medical attention, he felt the need for emotional support as well, plus he wanted a way to communicate with his large extended family. So he and his wife, Tamara, got on the Internet and signed up for an online community called CaringBridge.
"The ability to communicate what's going on, as well as for those who are watching and concerned to communicate back -- it's just simple, but brilliant," said Gehle.

Health Minute: Watch more on social networking during illness »
It wasn't hard to get started. The Gehles, like others who use CaringBridge, set up what is essentially their own personal Web site. There's a journal area where the patient or a loved one can enter background information as well as updates on the patient's condition. And there's a guestbook area where friends and family members can leave messages of comfort and support. Guests can choose to be alerted via e-mail if there's a new journal entry.
Don't Miss
Tamara Gehle invited about 200 friends, family and co-workers to visit the site. In the months that followed, the Gehles got about 15,000 visits.
"When I was really in the dumps ... to get up every morning and read what people wrote overnight was one of the key things that got me through my day. It ... helped me say 'OK, let's keep moving forward,'" said Ken Gehle.
Helping people like the Gehles cope with a medical crisis or a life-changing event was part of Sona Mehring's inspiration for the creation of CaringBridge. Twelve years ago, a friend of Mehring's gave birth to a very premature baby and needed help communicating with her family and friends. Instead of making dozens and dozens of phone calls on behalf of her friend, Mehring created CaringBridge.
"It was one of the first blogs. ... It was one of the first social networks," says Mehring.
Now over 145,000 CaringBridge sites have been created, and in the last 12 months, over 30 million users and visitors have logged on.
Other popular sites include CarePages, Planet Cancer for young adults, and Group Loop, where teens with cancer can chat with other teens. The American Cancer Society's Cancer Survivors Network also offers plenty of support.
Researchers say that social support systems can make a difference to people battling illnesses like cancer.
"The jury is still out a little bit on whether social support helps you survive -- but it definitely helps you live better," said Dr. Charles Raison, an assistant professor of psychiatry and behavioral sciences at Emory University School of Medicine and CNNhealth.com's mental health expert. He noted that while some studies show a survival benefit and others don't, almost all show an improvement in quality of life.
"When people provide each other with support and encouragement -- that can make the difference in a person's life between ... surrendering to hopelessness and ... finding the gumption to keep going," he said.
Support networks can also be good for family members, who are at higher risk for depression during a crisis.
"They help take the burden off the family," said Raison. "When you are deeply connected with a loved one who is going through something that is very difficult, it puts tremendous psychological stress on family members. ... So anything that helps a patient come to a more positive, hopeful place is almost certainly going to be good for the mental health of the family members that are also struggling with the illness."

Getting that support, via CaringBridge, has made all the difference to the Gehles. Ken Gehle is now in remission and will continue to get scoped and scanned every six months for the next five years.
"I think ... people expressing how they felt about what I was going through or how they felt about me, helped with keeping the positive going," said Gehle.
E-mail to a friend

All About Cancer