WASHINGTON (CNN) -- Lawmakers reacted with anger and dismay Tuesday to the second report this year that Veterans Administration facilities had inadequate safety procedures in place to ensure that colonoscopy equipment is sterilized between patients.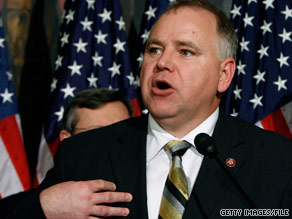 Rep. Tim Walz, D-Minnesota, says the report raises "catastrophic" implications.
"We have truly messed up," said Rep. Steve Buyer, R-Indiana, a member of the House Subcommittee on Oversight and Investigations, referring not to himself but to the VA.
"Veterans' confidence in the VA is shaken," said Rep. Bart Gordon, D-Tennessee.
About 42.5 percent of 42 VA facilities inspected without warning in May had standard operating procedures in place for the equipment being used and could demonstrate that their staffs had been trained to use the devices, according to a report released Tuesday by the Department of Veterans Affairs' Office of Inspector General.
"It is unacceptable that any of our veterans may have been exposed to harm as a result of an endoscopic procedure," said Secretary of Veterans Affairs Eric Shinseki in a written statement.
"We are taking appropriate disciplinary actions and implementing a new policy requiring each director to verify in writing compliance with VA standing operating procedures."
The Veterans Administration responded with declarations of contrition. But when asked if he could reassure veterans undergoing colonoscopy that they will not become infected with a potentially fatal virus, the VA's Dr. William Duncan said all medical procedures carry a risk.
"I will say that a veteran can walk into any VA hospital and my honest belief is that their risk of being harmed by the medical care that they receive is less than what it would be in the outside medical facilities," said Duncan, the associate deputy undersecretary for health quality and safety.
"I cannot guarantee to any veteran that they will not have an adverse event occur in our facility. I can guarantee that we are dedicated to reducing those adverse events to the lowest possible level and we take this extremely seriously."
"I know we talk about adverse events," said Rep. Tim Walz, D-Minnesota. "But going in for a routine colonoscopy and later being told you have HIV is not just an adverse event. That's absolutely catastrophic."
Duncan said document control and training would be standardized in the future "so that when you go to different facilities they are doing things in the same manner."
He said he was "extremely disappointed at the findings of the IG report and we regret that we were not 100 percent in compliance."
That did not impress Rep. Gregory Meeks, D-New York.
Don't Miss
"Yes, we would like 100 percent," he said. "But I do know we're finding official reports that say we're not even close to 100 percent."
In a previous study, 10,617 veterans who underwent the procedure at four VA hospitals in Tennessee, Georgia and Florida were exposed to the risk of viral infection from improperly sterilized equipment, Duncan said.
Of the 96 percent who have responded, 13 tested positive for hepatitis B, 34 to hepatitis C -- both of which are liver diseases -- and six tested positive for HIV, the AIDS virus, he said.
It's not clear how they were infected, whether via the scopes or some other way. But Buyer urged that veterans not be forced to try to prove that that they got the virus from dirty equipment rather than from some other exposure.
"My opinion is that the benefit of the doubt will go to the veteran," he said.
Endoscopes are devices that allow doctors to see internal organs through external orifices using a system of optics. The devices sometimes contain a tube that is used to inject water into the colon to clear away debris so the doctor can get a better view.
The machines have to be carefully cleaned on all external and internal surfaces.
Doing so is not that difficult, said Rep. Phil Roe, R-Tennessee, himself a doctor who routinely carried out the procedure during 31 years in practice.
"It's not a complicated procedure," he said. "You have a couple of tubes and a scope that need to be thoroughly washed. It's not difficult to do."
Aimee Frank, a spokeswoman for the American Gastroenterological Association, said no data exist on how often colonoscopes are improperly cleaned outside the VA work or how often they might have caused someone to become infected with a virus.
E-mail to a friend

All About Veterans' Affairs • U.S. Department of Veterans Affairs