(CNN) -- The toll of the nationwide E. coli outbreak linked to tainted cookie dough has continued to mount, federal health authorities said Tuesday.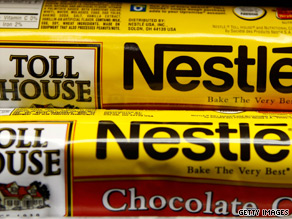 Nestle says the tainted product was in a 16.5-ounce package that read "best before 10 JUN 2009."
Seventy-two people infected with a strain of E. coli O157:H7 with a particular DNA fingerprint have been reported from 30 states, the Centers for Disease Control and Prevention said in a statement.
Of them, 51 have been confirmed as having the outbreak strain; confirmation was pending on the others.
Those sickened range in age from 2 to 65 years, but nearly two-thirds (65 percent) are under 19, and nearly three-quarters (71 percent) are female, the agency said.
Thirty-four people have been hospitalized, 10 of them with hemolytic uremic syndrome, a kidney disease. No fatalities have been reported.
The new figures came a day after investigators at the Nestle USA plant in Danville, Virginia, reported finding evidence of E. coli bacteria in an unopened package of raw chocolate chip cookie dough.
The tainted sample was manufactured February 10 at the Nestle plant in Danville, according to the Food and Drug Administration.
A spokeswoman for Nestle said the tainted product was in a 16.5-ounce package that had a day code of 9041 and a notation of "best before 10 JUN 2009."
The plant where the dough was produced has been shut since June 18, but none of the more than 200 workers has been laid off, said Roz O'Hearn, a spokeswoman for Nestle.
"We have been able to work a flexible schedule," she said. "Some folks volunteered for a leave of absence and paid vacation."
E-mail to a friend

All About Nestle SA • E. Coli • Centers for Disease Control and Prevention