By Val Willingham
CNN Medical Producer





(CNN) -- In May, Denise Bertholin got married. She wore a white dress and carried beautiful lilies. She and her groom, Matt Braun, said "I do" in front of family and friends.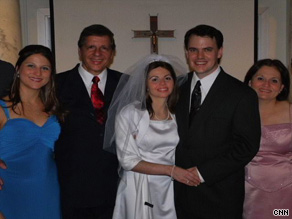 Just before her big wedding, Denise Bertholin was told she had leukemia; she married in a hospital chapel instead.
But instead of getting hitched in the mountains of Harpers Ferry, West Virginia, as she'd planned, Bertholin took her vows in a hospital chapel at Johns Hopkins Medical Center in Baltimore, Maryland. That's because three weeks before her wedding, she learned she had a rare form of acute leukemia.
"I just started crying and my fiancé came in and just hugged me," Bertholin recalls.
As early as February, Bertholin noticed she wasn't feeling like her usual self: She was run down, very tired. She thought it had to do with her job and preparing for her "big day." Then one day toward the end of April, Bertholin could barely make the walk from the parking lot to a drugstore. For all of her 29 years, Bertholin had been thin and in good shape; on this day she knew something was very wrong.
"I felt like my chest was constricted and I couldn't see very well," she says. "So I went into the emergency room right away."
Her family doctor thought she might have anemia, so he ordered blood tests. A week later, on May 5 -- she remembers it being Cinco de Mayo -- Bertholin's doctor gave her the bad news. "He told me that I had leukemia," she sighs. "And he specified that I had acute leukemia, and that it wasn't going to be an easy road to take but that I was young and I could survive."
At first, her oncologists tried aggressive chemotherapy. Although the treatment helped, they knew her form of leukemia had a tendency to return. Her lead doctor suggested she have a bone marrow transplant, saying it was the best way to attack the cancer.

Watch more on Denise's wait for bone marrow »
"For patients who have leukemias that can't be cured with traditional chemotherapy, we look for allogeneic bone marrow transplants in order to try to give them the best treatment for keeping their disease away forever," says Dr. Douglas Smith, an associate professor of oncology at Johns Hopkins University School of Medicine.
A bone marrow transplant is one of the best ways to fight acute leukemia, say experts. Bone marrow is the spongy substance found inside large bones. It produces stem cells that turn into new red and white blood cells, and platelets. Allogeneic means the transplanted bone marrow comes from a matched donor -- preferably a family member.
In Bertholin's case, no one in her family was a perfect match. Her next step was to join a national bone marrow registry called Be The Match Registry.
But she faced an obstacle: Bertholin is Latina. According to Dr. Jeffrey Chell, the chief executive officer of the National Marrow Donor Program which runs Be The Match, only 9 percent of people on the registry are Hispanic. "That's not enough," says Chell.
Each year, thousands of people with different forms of cancer turn to the National Bone Marrow Registry for transplants. Seven million people are listed on the registry, but a very small percentage of them are from minority groups. That's unfortunate, says Chell, because "your background, your heritage is absolutely critical in finding a match."
He says the No. 1 reason people don't join the registry is "because they don't know about it."
According to Chell, joining the registry is easy: It involves taking a simple swab of the inside of your cheek to determine your tissue type and mailing it off. (You can also register in person.) Your name then goes on the list. If you're called to donate, and are deemed healthy enough, bone marrow is extracted -- or harvested -- usually from the hip.
Although the process of extracting bone marrow from a donor has become less painful, people are still afraid. "There is some fear," says Chell. "People often say to me, 'Is it gonna hurt? I've heard it is really painful to donate.' And the answer is no."
Health Library
Because fear is a factor, sometimes stem cells are collected from a donor's blood, instead of harvested from bone marrow from the hip. Doctors hope this will encourage more people -- including Hispanics and other minorities -- to sign up. (For more information on registering, go to "Be the Match.")

But finding a matching donor takes time -- time many patients don't have. Bertholin is lucky: The chemotherapy is keeping her disease in check. But she can't stay on it indefinitely. So for now, she waits -- and hopes that more people of Hispanic origin will register, so she can one day renew her vows in the wedding of her dreams.
"I have hope," she says. "I know I will find a donor and I am going to encourage everyone to register -- not only for me but for other people."
E-mail to a friend

All About Leukemia