(CNN) -- The newest best friend for army doctors may glide on three wheels and have a computer screen for a head.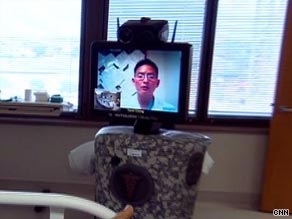 Dr. Kevin Chung appears on the screen of the robot that helps him treat soldiers from afar.
A revolutionary robot mounted with a high-tech camera is helping physicians treat and save soldiers -- from just about any location in the world.
In three years, army docs have conducted at least 200 medical interventions from remote locations, thanks to the device.
Dr. Kevin Chung, who directs the Burn Intensive Care Unit at Brooke Army Medical Center in San Antonio, Texas, is one doctor who has incorporated the cutting-edge technology into the care of his patients.
He is a frequent operator of the robot and regularly uses it to treat patients, including those he cared for when he was deployed to Iraq.
When he was in Baghdad, Chung used the robot to follow up with critically injured soldiers after they had returned to hospitals in the U.S, he told CNN.
The high-tech medical assistant is controlled from afar via a laptop and remote joystick. The robot is able to move easily because sensors located on its "torso" help it identify any obstacles in its path.
Vital Signs
Each month CNN's Dr. Sanjay Gupta brings viewers health stories from around the world.


The camera on the wireless robot captures images of a patient from just about every angle, and a zoom option allows doctors a close-up view of their distant patient.
Besides the benefit of allowing doctors to be in more than one place at once, the high-tech medical robot can be a confidence booster for those working in combat zones.
On using the robot to see soldiers he had treated in Baghdad when they were back in the U.S., Chung recounted: "To visually see that patient in a bed, with stable vital signs, halfway around the world -- that did wonders just to be able to see that for all the staff."
The robot may be sophisticated, but the technology isn't fail-proof. The wireless signal it relies on can cut out, causing the robot to freeze in its tracks.

See other medical breakthroughs from the frontline »
Don't Miss
While that may be a downside of the robot, Chung is more focused on what he says are the "powerful components" of the medical technology.
In emergency situations, such as on the battlefield, the robot could help doctors perform potentially life-saving operations that they've never done before.
For instance, a surgeon located thousands of miles away from the patient could log in to the robot and talk someone through the procedure, Chung said.

While it may be some time before the technology is adopted widely in the treatment of wounded soldiers, Chung said he expects it to play an important role in patient care.
"I think this type of technology is highly valuable," he told CNN. "At some point you're going to see, as we try to stretch our expertise, our assets to different places around the country, this type of technology will help you with that."
E-mail to a friend

All About Wireless Technology • Medical Devices • Medical Technology