WASHINGTON (CNN) -- The Obama administration Wednesday urged employers to adopt "flexible and non-punitive" sick-leave policies as it released new guidelines for containing the spread of the H1N1 virus in the coming flu season.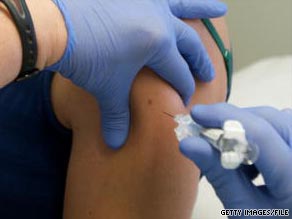 Health and Human Service Secretary Kathleen Sebelius asked employers to encourage vaccinations.
Among other things, businesses were asked to keep employees out of the office if they exhibit flulike symptoms and to establish alternative work arrangements for employees considered vulnerable to complications from the virus.
They also were asked to prepare contingency plans -- including telecommuting and staggered shifts -- to ensure that operations can continue in the event a workplace is hit hard this fall or winter by the H1N1 virus, also known as swine flu.
Whenever possible, employees should be cross-trained to cover essential functions when co-workers become sick, the administration said.
The business guidelines were unveiled in a joint announcement from the secretaries of commerce, health and human services, and homeland security.
"We already face much economic uncertainty. A flu outbreak is a very scary prospect," Commerce Secretary Gary Locke said.
"From top to bottom, businesses need to drive home the point that if an employee stays home sick, it's not only the best thing for that employee's health, but also for the health of his or her co-workers and the productivity of the company."
Locke asked employers to drop a common requirement that workers provide doctors' notes or other paperwork to prove that they had to miss work because of an illness.
Don't Miss
Such a requirement "has the potential to overload the health care system that will likely be stressed during this year's flu season," he said.
Employers should stay in touch with state and community health authorities and align their guidelines according to local conditions, Locke added. They should promote better workplace hygiene by encouraging the frequent washing of hands and by reminding employees to cover their mouths when they cough or sneeze.
Health and Human Services Secretary Kathleen Sebelius asked employers to encourage their most vulnerable workers to get both the traditional and H1N1 flu vaccines as soon as possible. The H1N1 vaccine, which is expected to be ready in October, would require two shots, the second three weeks after the first. Immunity to the virus would not kick in until two weeks after the second shot.
Pregnant women, health care workers, and parents or guardians of infants under 6 months of age are among the most vulnerable segments of the population, Sebelius said.
Adults under the age of 65 with an underlying health condition -- such as asthma -- are also considered to be more at risk from the H1N1 virus.
A separate set of H1N1 preparation guidelines for the nation's school systems was released two weeks ago. The full text of the plans are available at the Web site www.flu.gov.
The World Health Organization declared the H1N1 virus a global pandemic on June 11.
E-mail to a friend

All About Contagious and Infectious Diseases • U.S Department of Health and Human Services • U.S. Department of Homeland Security • U.S. Department of Commerce