By Val Willingham
CNN Medical Producer





(CNN) -- Barbara Simone of Glen Burnie, Maryland, considers herself terribly flawed. She refuses to show her ankles and she'd never allow them to be photographed. She barely wants to talk about them; in fact, when asked about her legs, she mumbles under her breath that she hates them.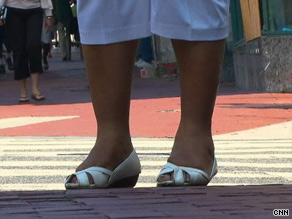 "Cankles" is slang for the part of the leg where the ankle meets the calf when there is no definition or indentation.
Why would someone be so self-conscious about a certain part of her body? "I have cankles -- that's all I can say," she laments. "They are huge and they are horrible. ... And I will never wear a skirt or dress again."
Cankles? What are cankles? We've heard about saddle bags, muffin tops and love handles, but it seems that some women and men of the 21st century are now focused on the chubby joints of their lower extremities.
Far from being a medical term, "cankles" is slang for the part of the leg where the ankle meets the calf when there is no definition or indentation. In most cases, cankles are just large ankles -- what used to be called "big bones." But in society's quest for all things thin and shapely, big-boned ankles have taken on a name -- and a life -- of their own.
According to podiatrists, the average ankle size is about 10 to 11 inches around; men's ankles may be a little larger. The American Podiatric Medical Association does not recognize cankles as a medical problem, but according to Dr. Kathya Zinszer, a physician at Temple University's School of Podiatric Medicine, cankles can be caused by all types of medical issues.
"Things like diabetes, hypertension, cardiovascular risks, sometimes just lymphedema," says Zinszer. "All of those can lend themselves to deformed ankles or what people are [calling] cankles." But Zinszer says that most cankles are "God-given."

Watch more on cankles and what can be done about them »
Zinszer has seen patients try to alter their cankles. Some people turn to ankle liposuction, which can cost anywhere between $4,000 to $8,000, depending on how extensive the ankle-shaping need is.
But Zinszer doesn't recommend liposuction because it can do more damage than good. "The foot, the lower extremity, has a lot of neuromuscular structures," she says, explaining that by removing some of the tissue, nerves and vasculature can be damaged, creating an even bigger problem.
There are exercises that can keep your ankles firm. However, they don't always work. Jeff Timmons, a personal trainer from Harrisburg, Pennsylvania, says he has clients who constantly complain about the size of their ankles. Many plead with him to help them shape their legs and give their ankles definition.
Don't Miss
Although some exercises can make a little difference, he says, most cankles are stubborn and stay put because they're part of a person's anatomy. "Sure, if you're heavy, you're going to have heavy ankles, so losing weight will make a difference," he says. "But to be honest, most of my clients who want to get rid of their cankles are already in pretty good shape."
Zinszer says people should stop worrying about the size of their ankles and think more about how to take care of them, because our lower extremities can take a pounding. "When we think about ankles, we're thinking about all the different ligaments that are there, all the structures," she says. "They handle a lot of our activities, our weight, and we forget they're there until we've actually injured them or something has happened to [draw] attention to them."
Health Library
Zinszer says we take our feet for granted. "You know, feet get abused. ... We expect them to always be there when we need to do our activities," she says. She recommends that we treat our ankles, Achilles and arches by wearing supportive shoes, maintaining an appropriate weight and eating a healthy diet -- and learn to deal with cankles as a part of life.
But Barbara Simone says that's easier said than done. She has tried exercises, different shoes, weight-loss programs -- and still, nothing. For now, she resorts to wearing long pants and keeping away from the camera.
"What more is there to say?" she asks with frustration. "I'm still looking for ways to correct them."
E-mail to a friend

All About Exercise and Fitness