By Madison Park
CNN





(CNN) -- A freelance cameraman's appendix ruptured and by the time he was admitted to surgery, it was too late. A self-employed mother of two is found dead in bed from undiagnosed heart disease. A 26-year-old aspiring fashion designer collapsed in her bathroom after feeling unusually fatigued for days.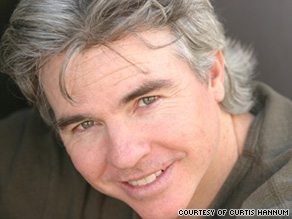 Paul Hannum's family members say he probably would've gone to the hospital earlier if he had had health insurance.
What all three of these people have in common is that they experienced symptoms, but didn't seek care because they were uninsured and they worried about the hospital expense, according to their families. All three died.
Research released this week in the American Journal of Public Health estimates that 45,000 deaths per year in the United States are associated with the lack of health insurance. If a person is uninsured, "it means you're at mortal risk," said one of the authors, Dr. David Himmelstein, an associate professor of medicine at Harvard Medical School.
The researchers examined government health surveys from more than 9,000 people aged 17 to 64, taken from 1986-1994, and then followed up through 2000. They determined that the uninsured have a 40 percent higher risk of death than those with private health insurance as a result of being unable to obtain necessary medical care. The researchers then extrapolated the results to census data from 2005 and calculated there were 44,789 deaths associated with lack of health insurance.
For years, Paul Hannum didn't have health insurance while he worked as a freelance cameraman in southern California.
One Sunday, Hannum complained of a stomachache which alarmed his pregnant fiancée, Sarah Percy. "He wasn't a complainer," she said. "He's the type of guy who, if he got a cold, he'll power through it. I never had known him to complain about anything."
Hannum thought he had a stomach flu or food poisoning from bad chicken. On Monday, his brother saw him looking ashen and urged him to go to the hospital. "He had a little girl on the way," his older brother Curtis Hannum said. "He didn't want the added burden of an ER visit to hang on their finances. He thought 'I'll just wait,' and he got worse and worse."
By the time Hannum got to the hospital and was admitted to surgery, it was too late.
Paul Hannum, 45, died on Thursday, August 3, 2006, from a ruptured appendix. His daughter, Cameron was born two months later.
Other studies have indicated that the uninsured are at greater risk of mortality than the insured. A 2007 study from The American Cancer Society found that uninsured cancer patients are 1.6 times more likely to die within five years of their diagnosis than those with private insurance. In 2002, the Institute of Medicine estimated that lack of health insurance caused about 18,000 deaths every year.
The latest findings come amid the fierce debate over health care reform in the U.S.
Two authors of the Harvard study, Himmelstein and Dr. Steffie Woolhandler are co-founders of the Physicians for a National Health Program, which supports government-backed "single-payer" health coverage.
The National Center for Policy Analysis, which backs "free-market" health care reform, calls the Harvard research flawed.
"The findings in this research are based on faulty methodology and the death risk is significantly overstated," said John C. Goodman, the president of the NCPA in a statement. But Goodman did note there is "a genuine crisis of the uninsured in this country."
The lead author of the Harvard study, Dr. Andrew Wilper said he's confident in his and his colleagues' estimates. "It's consistent with the vast body of literature that has found reasonably similar findings," said Wilper, instructor in internal medicine at the University of Washington. "There's broad agreement in the health literature regarding this point."
Wilper said there is often fear from those, including his own grandmother, who don't feel well but avoid the hospital because it could mean financial catastrophe.
For 10 years, Sue Riek suffered from back pain, but couldn't afford medical care.
When a mid-life divorce left her single and without health insurance, Riek started a home-business selling make-up on eBay to support herself and her two daughters.
Riek, who lived in Charlotte, North Carolina, didn't qualify for Medicaid. And she couldn't afford a $5,000 monthly insurance premium, said her eldest daughter, Kaytee Riek.
"I don't know if she felt trapped, but it was a constant in her life -- struggling outside the health care system to exist," her daughter said.
Riek took comfort in her faith and regularly attended church. Then one Sunday, she didn't show up.
The next day, September 3, 2007, her daughter received the call telling her that her 51-year-old mother died from undiagnosed heart disease -- a condition treatable with lifestyle changes, medication and certain medical procedures.
"I feel incredibly strongly that she would still be alive if she had been able to regularly see a doctor," said her daughter.
It has become lethal to be uninsured, said Woolhandler, an associate professor of medicine at Harvard.
"If you can get good primary care for your high blood pressure, your high cholesterol, diabetes -- those don't have to be lethal conditions," she said. "If you fail to get good ongoing primary care, you may end up with complications and even death."
The ranks of the uninsured have grown, according to the U.S. Census Bureau. It says the number of Americans without health insurance rose to 46.3 million last year, up from 45.7 million in 2007. The percentage of the uninsured remained at 15.4 percent.
Young adults are more likely to be uninsured. Elizabeth Machol, 25, told her mother she felt tired. She had just moved into a new apartment in Santa Rosa, California, with her boyfriend and thought the fatigue was from the move and her cat Bert, who would keep her up at night.
Health Library
Her mother, Marlena Machol told her to go to the doctor's office, but Machol was reluctant. Machol worked at a movie theater and didn't have health insurance. Her parents were still paying her medical bills from a previous condition and she was worried about the cost.
A few days after their phone conversation, Machol collapsed in the bathroom. She never regained consciousness.
One day after her 26th birthday, Machol was declared brain dead.
After signing papers to donate her organs, her parents kissed her face, held her hands and said goodbye to the daughter who had played the violin, organized her own fashion show and taught neighborhood kids how to swim. The coroner's office could not determine the cause of death.
Six years after her death on September 22, 2003, her family wonders if things would've been different had she not feared the cost of going to the hospital.
"Maybe they would've found out what's wrong," her mother said. "I don't know if that would've saved her, but it would've been a chance to. There are people like Elizabeth -- young people who are starting out in life and they don't have options."
E-mail to a friend

All About Health Insurance • Health Care Costs • Health Care Issues