From Val Willingham
CNN Medical Producer





BETHESDA, Maryland (CNN) -- The first data from H1N1 vaccine trials in children reveal some good news, the director of the National Institute of Allergy and Infectious Diseases said Monday.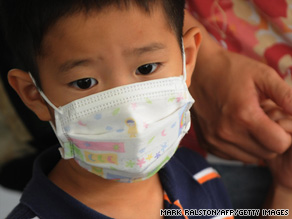 Younger kids may have to get four shots this flu season: two each for seasonal flu and H1N1.
That news, Dr. Anthony Fauci said, is that the vaccine for H1N1 reacts in children just like those for seasonal flu strains.
Preliminary data show that children 10 to 17 seem to be protected from H1N1 with one 15-microgram dose of the vaccine, but younger children, ages 6 months to 9 years, may have to have two doses depending on their health history, he said.
Final recommendations for the younger age group will be made in October, he said.
The trials found that 76 percent of children ages 10 through 17 had a robust immune response to one dose. Among 3-years-olds to 9-year-olds, that percentage dropped to 36 percent, and for those ages 6 months to 35 months, it fell to 25 percent.
Because Monday's data were gathered eight to 10 days after the subjects received the injection, more data is expected next month, and it could have an effect on determining how many shots a younger child will need.
The report comes just days after Health and Human Services Secretary Kathleen Sebelius announced approval of the H1N1 vaccine for adults. One dose is expected to provide protection for adults, as well.
According to the Centers for Disease Control, 46 children have died from H1N1 since it began to appear in the United States in the spring.
Approximately 600 children were in the H1N1 studies. Fauci said there were no adverse reactions in any of the youngsters.
"In these trials, we usually see some redness, arm pain, those types of things, " he noted, "but we saw none of it in these trials."
Because there is a possibility that younger children may have to get four vaccines for this flu season -- two for seasonal flu and two for H1N1 -- Dr. Anne Schuchat of the CDC suggests that parents start getting their little ones vaccinated for the seasonal flu now.
Health Library
The CDC said that both seasonal and H1N1 vaccines can be administered together, but if a parent is having a child take the FluMist for seasonal influenza, it's best to have the vaccines administered at different time, because FluMist contains a live vaccine.
The two doses of the H1N1 vaccine will be separated by 21 days.
The H1N1 vaccine for children, produced by Sanofi Pasteur, should be out by mid-October. Because children are in the high-risk category for H1N1, Fauci stressed the importance of getting the vaccine out to them quickly.
E-mail to a friend

All About National Institute of Allergy and Infectious Diseases • Swine Flu