(CNN) -- A woman who had the wrong embryo implanted in her gave birth to a baby boy Friday, according to a statement from the couple.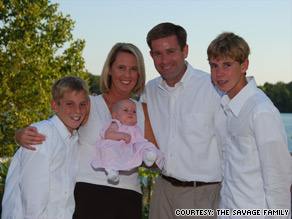 Sean and Carolyn Savage with daughter Mary Kate (now 18 months) and sons Ryan, left, and Andrew.
"Our family is deeply grateful for the support and prayers of so many people from around the world," the statement said. "We also would like to thank the medical professionals who provided superior care and treatment throughout the pregnancy and delivery."
"Our family is going through a very difficult time and requests privacy in the days ahead."
The couple said a fertility clinic implanted another couple's embryo into Carolyn Savage's uterus -- in essence, she became an unwitting surrogate for another family.
Ten days after the procedure in February, they received a call from the clinic's doctor: "Carolyn is pregnant, but we transferred the wrong embryos."
Don't Miss
"I don't think I've ever cried so much in my life," Savage said. "It was such a nightmare and, in a way, I felt violated."
Within minutes of learning the news, the Sylvania, Ohio, couple decided to carry the baby and relinquish him to his DNA parents after birth.

Watch the couple discuss their decision. »
Health Library
They met with the baby's genetic parents and the DNA-related mother of the child came along for one doctor's appointment.
In their statement after the birth, the Savage family congratulated the biological parents of the baby.

"We would like to offer our heartfelt congratulations to the Morell family on the birth of their son," the statement said. "We wish Paul, Shannon, their twin girls and their new baby boy the best, as they move forward with their lives together."
The Savages did not release the name of the clinic where they underwent in vitro fertilization. They provided proof of their reproductive predicament, including results of amniocentesis, a genetic test, indicating the baby Savage was carrying was not theirs.
E-mail to a friend

CNN medical producer Stephanie Smith contributed to this report.
All About Pregnancy and Childbirth