By Mara Betsch





When it comes to heart health, there is one fat that won't work against you -- fish oil.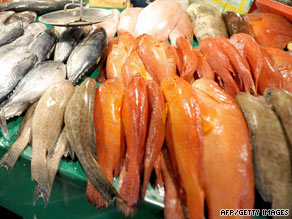 Experts recommend eating fresh fish at least once a week.
While most of us need more fish in our diets, heart experts recommend that people at risk for or with coronary artery disease should consume about one gram of fish oil per day. That's the same amount in three ounces of wild salmon (farmed fish may have less heart-healthy fats than wild).
Healthy people should aim for 500 milligrams a day, according to Dr. James O'Keefe, a cardiologist with the Mid-America Heart Institute in Bethesda, Maryland.
Research suggests that omega-3 fatty acids, found in fish and fish oil as well as some plant foods, can decrease the likelihood of cardiovascular disease.
Eating at least one fish meal a week was associated with a 52 percent reduction of risk for sudden cardiac death, according to a 1998 study of over 20,000 U.S. male physicians. Specifically, it can help prevent arrhythmias, lower triglycerides (a type of fat in the blood), slow down the buildup of plaque in the arteries, and slightly lower blood pressure.
Don't Miss
Nutritionists recommend taking a food-based approach to fish oil before turning to capsule supplements, because fish is also a good source of protein and other nutrients.
Joyce Baber, 54, from New Egypt, New Jersey, is trying to do just that to help lower her high cholesterol, 233 (LDL, 174; HDL, 59) and slightly elevated blood pressure.
"My doctor recommended omega-3," she says. "My LDL should be 130 or less and my HDL should be closer to 100." Patients with high cholesterol patients who consumed EPA, an omega-3 fatty acid, daily showed a 19 percent decrease in non-fatal coronary events, including heart attack, according to a 2007 Japanese study of over 18,000 people.
How much fish should you eat?
People with a history of cardiovascular disease should include fatty fish, such as mackerel, trout, herring, sardines, albacore tuna, and salmon, in their diet two to three times per week. Those without a history of heart disease are advised to eat fish at least one to two times per week. Health.com: Five fab fish dishes
Pregnant women should consume two fatty fish meals a week, while avoiding shark, tile fish, king mackerel and swordfish, which may contain some environmental contaminants such as mercury, according to the FDA.
Eat with your mind as well as your mouth, and pay close to attention to how the fish is prepared. Fried fish and fish from fast food restaurants do not offer the same heart health benefits as baked and broiled fish. Health.com: 20 meals that won't kill your cholesterol
Tofu and other forms of soybeans, canola, walnuts and flaxseeds, and their oils, are also rich sources of alpha-linolenic acid, which is converted to omega-3 fatty acid in the body. Omega-3-enriched eggs are also available in supermarkets.
Fish versus fish supplements
While the American Heart Association recommends oily fish as the preferred source of omega-3 fatty acids, supplements are a convenient source for people who don't like fish or are unable to consume the advised dosage. Side effects from the supplements are uncommon, but some report a fishy aftertaste, nausea, bloating and belching. (Try storing the supplements in the freezer to minimize the taste.) Health.com: Supplements for cholesterol: What works?
Baber admits she has not started taking the fish oil capsules, which her doctor recommended, because she has a hard time swallowing them.
"I am not good at swallowing large pills and I'm looking for ones that are a reasonable size. I also have acid reflux and I know there are possible GI side effects. But I will give this a try because I would like to avoid taking a statin drug, if possible."
Rene Colwell, 50, of New York, says "fish burps" turned her off to supplements after her 2006 heart attack, but she tries to take at least half of the four capsules her doctor recommended.
"Research actually supports combination therapy of omega-3 supplements and medication for people at risk for heart disease," says Dr. O'Keefe. Fish oil and statins are a safe and effective way to improve cardiovascular health -- more so than the use of statins alone, he says. Health.com: 10 ways to cut cholesterol, not taste

E-mail to a friend

Try a FREE TRIAL issue of Health - CLICK HERE!
Copyright Health Magazine 2009
All About Heart Attacks • American Heart Association • Diet and Nutrition