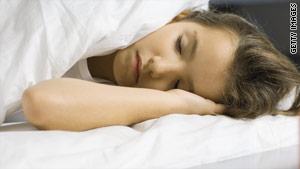 A CDC survey showed that people, especially in the eastern part of the United States were lacking sleep.
STORY HIGHLIGHTS
People in eastern United States lack sleep the most, according to CDC survey
Survey: 11.1 percent did not get enough sleep on any night in past 30 days
Study suggests that people in West may be more relaxed than Easterners
Health.com -- Whether they blame it on the kids, stress, or the lure of the Internet, most Americans feel like they're not getting enough sleep.
And people in the eastern United States -- particularly West Virginians -- have it the worst, according to the first survey to take a state-by-state look at people's perceptions of sleep -- or lack thereof. (People in California and North Dakota seem to get the best rest.)
The Centers for Disease Control and Prevention survey found that overall, more than 1 in 10 people, or 11.1 percent, did not get enough sleep or rest on any night in the past 30 days. A lucky 30.7 percent said they got enough rest or sleep every night for the past month.
The rest fell somewhere in the middle, according to the 2008 survey of 403,981 adults.
As people got older, they tended to report better sleep. Hispanics slept better than whites or blacks, while men slept better than women. A whopping 25.8 percent of people who were unable to work said they had not gotten a single night's good rest in the previous month, while 13.9 percent of unemployed people fell into this category, compared to 9.9 percent of people with jobs and 11.1 percent of students and homemakers.
There were big differences among states, with 19.3 percent of West Virginians reporting no nights of adequate rest for the past 30 days, compared to 7.4 percent of North Dakotans and 8 percent of Californians. Other bad-sleep states included Tennessee, with 14.8 percent having been sleep deprived for the past month; Kentucky, with 14.4 percent; and Oklahoma, with 14.3 percent.
The study suggests that people out West really may be more relaxed than Easterners: in fact, 12 of the 14 best-sleeping states were west of the Mississippi.
The authors of the CDC report suggest that the higher prevalence of obesity, hypertension, and other chronic disease in the southeastern U.S. could be a factor in why people there aren't getting a good night's rest.
Health.com: How poor sleep is linked to diabetes
But this report didn't look at the reasons behind people's lack of sleep, or ask them how many hours of sleep they actually got. While the National Sleep Foundation recommends that people aim for seven to nine hours a night, many seem to be falling short.
For Elizabeth Gordon, six hours of sleep a night is pretty darn good. She's had trouble sleeping on and off since second grade, and now with a 1-year-old and a 3-year-old, those quiet hours after the kids go to bed are a good time to get things done.
"I'll be exhausted at 9 and then I get a second wind and I'm up to like 1 or 2," says the Maplewood, New Jersey, mom.
Health.com: Insomnia and other menopause symptoms
Rich St. Germain, 40, a self-employed business appraiser in New Castle, New Hampshire, doesn't have little kids -- but that doesn't mean he rests easy. "I personally go through bouts of insomnia when I'm stressed out. My head hits the pillow and my mind starts racing...it is awful. Exercise seems to help, but stress can still get the better of me."
Experts agree that exercising during the day -- if it's not too close to bedtime -- is a great way to improve your chances of getting a good night's rest. Other common-sense advice: Stay away from caffeine in the afternoon and evening, and make your bedroom a TV- and Internet-free zone.
Health.com: How exercise may boost your mood
If these strategies don't work, get some professional help, sooner rather than later, says Dr. Lisa Shives, the medical director of North Shore Sleep Medicine, a sleep center in Evanston, Illinois.
Many patients who complain about insomnia to their primary care doctor might immediately be prescribed a pill. However, sleep medications are no long-term solution, Shives says. "They don't work great; they don't work forever," she explains. "What we really try to do is teach people coping strategies, teach them relaxation techniques, and teach them really good habits."
Health.com: Potential side effects of prescription sleep drugs
Some really bad habits? Late-night TV-watching and Internet surfing, she says. "You don't want anything late at night that gets a lot of light into your eyes because it signals to your brain center that it's time to get up and feed the chickens," Shives says. Tossing and turning in bed while worrying about not sleeping is another bad idea. "Lying there trying to sleep is going to frustrate you, give you anxiety, and totally perpetuate the anxiety you're developing around your sleep," she explains.
Shives recommends going through the American Academy of Sleep Medicine to find an accredited sleep center.
Health.com: Understanding dependence and addiction: Should you worry about sleep medication?
Copyright Health Magazine 2011