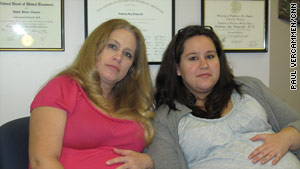 Nancy Brizendine, 42, and her daughter Kayla Yost, 22, are both pregnant and had H1N1.
STORY HIGHLIGHTS
California women both survived H1N1 flu while pregnant
H1N1 seems to cause most serious complications in young patients and pregnant women
Doctors stress prevention for all pregnant women
Lancaster, California (CNN) -- Nancy Brizendine's slow-paced life in California's Antelope Valley has become something of a slick race track.
The first stunner, at 42 years old, in her 11th year of taking birth control pills, was that Brizendine and her live-in boyfriend and fishing buddy were expecting a baby.
"I was shocked. I didn't even think I could get pregnant," Brizendine said.
But concern over having a baby in her 40s soon gave way to the joy of becoming a mother for the third time.
Then, about 2½ weeks ago, came another sudden turn. Brizendine, a medical assistant, caught the H1N1 flu virus.
"I had a cough, sinus infection, infected ear, fever, and that's when I went into urgent care and tested positive," Brizendine recalled. "There were times when I honestly could not get out of bed because I was so sick and achy."
Brizendine began worrying about how the swine flu would affect her baby, due in January.

Video: Pregnant moms fight H1N1
"There are not a lot of studies at this point as to how the babies are affected," said Dr. Anthony Dulgeroff of the High Desert Medical Group, one of Brizendine's doctors.
"One would think that since the virus doesn't cross the placenta, probably not too much of a threat that we know of," he said. "There are very high fevers in the mother that could affect the baby, but we really don't know 100 percent."
Brizendine had been preparing for another baby. Her 22-year-old daughter, Kayla Yost, is expecting a girl at the end of this month.
While Brizendine battled the virus, Yost, too, suddenly showed all the signs of H1N1. She was hospitalized and in a battle for her life.
"I was coughing really bad," Yost recounted. "It was like nonstop. My stomach was in pain because the [cough] was so deep. I was hyperventilating because I could not breathe."
Dulgeroff says Yost could have died.
She had contracted pneumonia in both lungs. She was getting oxygen and food through tubes.
Her mother began thinking perhaps she'd been dealt a strange twist of fate.
"I thought, is God giving me this [unborn] baby because he is going to take my other baby?" Brizendine said, tears trickling down her cheeks. "It was hard because I had to sit there and cry."
Brizendine says she was torn over wanting to be there to help Yost and being concerned for her unborn daughter.
Brizendine recovered at home, but Yost remained hospitalized.
"I was just like, I got to get off the oxygen, the breathing treatment, and get out of the hospital," Yost said.
After seven agonizing days, Yost was released from the medical center in Lancaster.
Doctors say H1N1 seems to cause the most serious complications in young patients and pregnant women. Yost, at 22, was right in the center of the bull's eye.
Brizendine believes that her advanced age for a pregnant woman, 42, actually lessened the potential pain.
Doctors stress prevention for all pregnant women: Do everything to try to avoid getting H1N1.
"Wash your hands," Dulgeroff advised. "Try not to touch your face; avoid public and crowded places. Stay away from people who are coughing. Avoid medical buildings, unless you have to go to your appointments."
The mother and daughter recommend H1N1 shots for pregnant women.
"After going through the symptoms and everything," Yost said, shaking her head in disbelief. "You have to realize it's not just you, it's your baby, and you have to protect both of you."
During her decades as a medical assistant, Brizendine took peeks at the soap opera "Days of Our Lives" during her lunch break.
Brizendine plucked Yost's name from the show, and her soon-to-be-born baby, Sydney, also takes her name from "Days."
The mother and daughter giggled and rubbed their bellies as if for good luck, thinking about Sydney's niece -- Yost's daughter -- who will be called Bobbi Ann. She will be about a month and a half older than her aunt Sydney.
Both expectant moms feel relieved to have survived the ravages of the H1N1 virus.
Brizendine summed up her topsy-turvy 2009 and H1N1: "It's just crazy that we got it at the same time."
The mother and daughter live a mile from each other in the Antelope Valley town of Rosamond, where they like to joke that nothing ever happens.
That's until this year, when Brizendine and Yost, already close on so many levels, shared a story they will no doubt tell to the unborn girls.
It's the tale of how all four of them survived when the H1N1 virus came knocking on the door a couple weeks before Halloween.