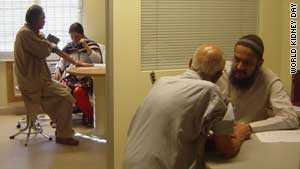 Patients being tested for high blood pressure at the Aziz Tabba Kidney Centre in Karachi, Pakistan.
STORY HIGHLIGHTS
Rocketing diabetes in developing countries is leading to the rapid growth of kidney disease
WHO says that 10 to 20 percent of people with diabetes die of kidney disease
Life-saving treatments are too expensive to be used widely in most developing countries
London, England (CNN) -- Kidney disease is becoming a growing problem in developing countries, caused by an explosion in cases of diabetes and high blood pressure, experts say.
As developing countries become increasingly urbanized, they are adopting the unhealthy lifestyles that promote diabetes and high blood pressure, the leading causes of kidney disease.
Left untreated, chronic kidney disease can result in potentially fatal conditions such as high blood pressure and heart disease, and can ultimately lead to kidney failure.
John Feehally, a professor of renal medicine and president elect of the International Society of Nephrology, told CNN "We are beginning to see the developing world getting the diseases of the developed world.
"Diabetes is growing much more quickly in the developing world than the developed and as a consequence we're going to see even more kidney disease in the developing world.
"There's very good evidence that the rapid increase in the diabetes in the developing world is almost all due to lifestyle change -- too much sugar, too much saturated fat, too much salt, and too many calories."
His comments came as the United Nations-backed World Diabetes Day is celebrated on November 14, to raise global awareness of the illness.
In poorer countries, early detection and intervention are crucial.
--John Feehally, International Society of Nephrology
The World Health Organization estimates that more than 180 million people worldwide have diabetes, and 10 to 20 percent of those will die of kidney failure. It predicts that the number of diabetics will double by 2030.
Marie-Agnès Cederborg, project manager with kidney disease awareness group World Kidney Day, told CNN that kidney disease can be managed if detected early, but too often, it goes unnoticed until a patient suffers kidney failure.
At that point, renal replacement therapy (RRT -- meaning dialysis or transplantation) is the only option, but according to World Kidney Day, 80 percent of individuals receiving RRT live in the developed world because it is largely unaffordable in developing countries.
That means to combat kidney disease in the developing world, the focus must be on prevention.
"In poorer countries, early detection and intervention are crucial," Feehally told CNN.
"We know that if you control diabetes and blood pressure, for many people it will slow down the progression of their kidney disease and in some people it will prevent kidney failure completely."
Feehally says preventing kidney disease needn't be expensive or complicated. Routinely measuring blood pressure and performing simple urine and blood tests, in combination with treatments for high blood pressure and diabetes are enough to stop the progression of kidney disease.
But in many countries, procedures for early detection remain the exception rather than the rule.
World Kidney Day says that in Pakistan, less than 10 percent of all patients who need it receive RRT, and that less than three percent of those diagnosed with high blood pressure receive adequate monitoring and treatment.
Dr Bilal Jamil works with kidney patients in Karachi, Pakistan. He told CNN, "Kidney disease is growing very rapidly in Pakistan. We have the sixth-largest population of diabetics in the world and about one third of diabetics may have some sort of kidney problem."
He says that a lack of access to free medical care means many Pakistanis are reluctant to have routine medical examinations and are often not diagnosed with kidney disease until it is too late for doctors to treat them.
Jamil believes it is vital to educate the public about the need for health check ups, and the long-term complications of high blood pressure and diabetes.
"We need more awareness and accessibility to facilities where problems are picked up at an earlier stage," he said.
"The number of diabetics in Pakistan is predicted to triple by 2030, and the number of cases of kidney disease will continue to grow unless something very serious is done about it."