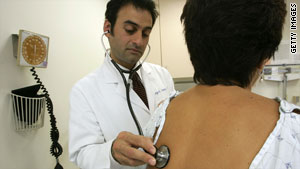 Two guidelines have been issued to reduce screening for breast and cervical cancer this week.
STORY HIGHLIGHTS
Screening for cervical cancer, versus breast cancer, is completely different
Federal advisory panel heavily criticized after recommending delay in routine mammograms
Timing of cervical and breast cancer screening guidelines called coincidence
(CNN) -- It's been a confusing week for women.
On Monday, it started with breast cancer.
A federal advisory board made a controversial recommendation that women begin routine mammograms at age 50, rather than at 40. The United States Preventive Services Task Force came under heavy criticism for its position and triggered confusion and political accusations of health care rationing.
Then, the week ended with cervical cancer.
The American College of Obstetricians and Gynecologists issued guidelines advising that women should receive their first cervical cancer screening, or Pap test, at the age of 21.
The group, a nonprofit organization of women's health care physicians, also recommended that patients younger than 30 be screened every two years, instead of annually, and that healthy women 30 or older be given a Pap test once every three years.
This recommendation has been far less controversial, receiving broader support from the medical community and patient advocates.
Screening for cervical cancer, compared with breast cancer, is a completely different issue, several medical experts said.
"There's no link between us and the [task force] recommendations," said Greg Phillips, a spokesman for the ob/gyn group. "And it's a different animal. Cervical cancer is very slow-growing versus some breast cancers."
Phillips described the timing of the two guidelines by the two unrelated entities as "pure unfortunate coincidence." His group's review of the data on Pap tests and cervical cancer "has been in the works since fall 2007," he said.

Video: What's a woman to do?
Pap tests detect pre-cancerous cells that could take 10 to 20 years to develop into cancer. Breast cancer develops more quickly and is much more common than cervical cancer.
Doctors say that less frequent screening for cervical cancer would still catch abnormalities.
"This change in recommendation will not result in fewer cervical cancers being diagnosed," said Dr. David Soper of the American College of Obstetricians and Gynecologists, a professor of obstetrics/gynecology at Medical University of South Carolina. "This will just be a better screening recommendation."
The American Cancer Society expressed support for the ob/gyn group's position on Pap tests. Debbie Saslow, director of breast and gynecologic cancers for the American Cancer Society, likened getting an annual Pap test to getting a mammogram every four months.
"We're not going to see an increase in the rate of cervical cancer if women are screened every two or three years versus one year," she said.
The National Cervical Cancer Coalition, composed of people battling cervical cancer and human papillomavirus-related issues, family members and caregivers, also supported the new reduced screening guidelines.
"Our country's leading scientists are supportive of the types of efforts ACOG put together," said Alan Kaye, chairman of the cancer coalition's board of directors. "It has nothing to do with health care rationing. If it did, we'd be the first to stand up on a mountain and yell."
But cervical cancer tends to disproportionately affect poorer women who are unable to access health care and get Pap tests, he said.
According to the American Cancer Society, there are about 10,000 new cases of cervical cancer each year and more than 4,000 deaths. More than half are found in women who have never had a Pap test.
This change in recommendation will not result in fewer cervical cancers being diagnosed.
--Dr. David Soper
"It's the women ... that are not coming in for their Paps that are getting cervical cancer," Soper said. "Those that are coming in, the frequency [of screening] you can debate, but those patients will not develop cervical cancer because they will pick up these precancerous lesions."
When asked whether the American College of Obstetricians and Gynecologists guidelines would affect how health insurance providers cover cervical cancer screenings, Susan Pisano, a spokeswoman for America's Health Insurance Plans, an insurance industry group, said: "It's hard to say for a guideline that's released today."
Health plans look for guidance from a variety of organizations like the ob/gyn group, the American Cancer Society and the U.S. Preventive Services Task Force and give more weight to the group that has more scientific evidence behind its recommendations, she said.
"I don't have any reason to believe that coverage is going to change, but it's hard to say how practicing physicians will receive this guideline and whether they'll change their approach as a result of it," Pisano said.
Said Dr. Leo Twiggs, professor and chairman of the department of obstetrics and gynecology at the University of Miami School of Medicine: "Savvy physicians always take these recommendations by these task forces with a grain of salt. Most of us who've been taking care of ob/gyn patients know these guidelines and tailor-make the guidelines to individual patients."
Although the various guidelines this week triggered much confusion and controversy, Twiggs said, there could be a silver lining.
"The benefit of talking about screening is that people will get their screening. That's the benefit: that people are discussing these issues."
CNN's Karen Denice, Saundra Young and Sabriya Rice contributed to this report.