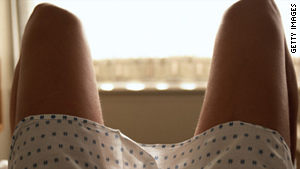 Earlier screening for cervical cancer may lead to unnecessary treatments for an increasingly rare cancer.
STORY HIGHLIGHTS
American College of Obstetricians and Gynecologists recommends first Pap tests at 21

After age 21, women should have a Pap test every two years, instead of every year

Rates of cervical cancer have declined by 50 percent since the 1970s
(Health.com) -- Young women should have their first Pap test no sooner than age 21, regardless of when they become sexually active, say new guidelines from the American College of Obstetricians and Gynecologists. Earlier screening for cervical cancer may lead to unnecessary and possibly harmful treatments for an increasingly rare cancer, according to ACOG, the leading U.S. professional organization for obstetricians and gynecologists.
After age 21, women should have a Pap test every two years, instead of every year. At age 30, if a woman has no history of cervical cancer and has had three normal Pap tests in a row, she can be screened every three years, rather than every two to three years. (Women with certain risk factors, such as those who are HIV positive or who have a suppressed immune system, may need to be screened more often.)
However, annual pelvic exams -- which are necessary for performing a Pap test -- won't necessarily be going away. ACOG says it may still be appropriate for women to visit their doctor annually for a pelvic exam, even if a Pap test isn't performed. And sexually active adolescents shouldn't wait until age 21 to see a gynecologist for the first time. (Such visits don't necessarily have to include a pelvic exam.)
The guidelines were published this week in the journal Obstetrics & Gynecology.
Health.com: Have your best gyno visit ever
ACOG had previously recommended that women receive their first Pap test three years after having sex for the first time, or no later than age 21, with annual checkups after that.
Why the change? Rates of cervical cancer, which is caused by the sexually transmitted human papillomavirus, have declined by 50 percent since the 1970s. Cervical cancer is now extremely rare, especially among women under the age of 30, the group most affected by the new guidelines. On average, just 14 cases occur nationwide in women between the ages of 15 and 19 each year, according to data from the Centers for Disease Control and Prevention. Among women ages 20 to 24, an average of 123 cases occur.
"The risk of invasive cancer is so exceedingly rare in this age group that to start screening at age 21 will still pick up the overwhelming majority of cases," says Dr. Alan Waxman, a professor of ob-gyn at the University of New Mexico School of Medicine, in Albuquerque, who led the preparation of the document spelling out the recommendations. "The incidence of cervical cancer in 15- to 19-year-olds has been reported at 1 to 2 per million girls. That's a lot of unnecessary pelvic exams and unnecessary potential treatments that can be avoided."
Health.com: How to protect yourself from HPV and cervical cancer
The cervical cancer rate will probably drop even further due to newer vaccines like Gardasil, which are now approved for HPV prevention in girls and women ages 9 to 26. However, ACOG says the vaccines won't affect cervical cancer rates for 15 to 20 years, so they did not play a role in the new cervical cancer screening guidelines. Such vaccines don't protect against all types of HPV that can cause cancer, so Pap tests are still necessary.
Health.com: How HPV causes cervical cancer and abnormal Pap smears
About half of all people are infected with HPV at some point in their lifetime, although the infection often goes away on its own. (Only in some cases does the virus damage cervical cells, causing abnormalities that can be picked up on a Pap test.)

Video: Guidelines cut pap smears
Studies that ACOG consulted also show that screening older women every two to three years is nearly as effective as screening annually. And for women who've had healthy Pap tests for years, screening could probably be stopped around ages 65 to 70.
Dr. Mark Einstein, an associate professor of gynecologic oncology at Montefiore Medical Center, in the Bronx, New York, and a spokesman for the Society of Gynecologic Oncology, says the new guidelines are a "data-driven fine-tuning," not a major overhaul.
"It's important for patients to realize that the science behind the guidelines is strong," Einstein adds.
ACOG's revisions reflect a trend toward a more conservative approach to managing the cervical abnormalities that sometimes lead to cancer.
Cervical lesions are common, especially among adolescents. About 1 in 5 Pap tests in that age group will turn up an abnormality, but the vast majority of low-grade cervical lesions -- up to 90 percent -- will get better on their own within three years. Among older women, the rates are lower, but low-grade lesions still rarely progress to the precancerous stage.
Moreover, a series of studies in recent years suggests that women who have cervical lesions surgically removed or burned away with a laser may be at a higher risk of giving birth to a premature or underweight baby. As a result, ACOG and other organizations now recommend monitoring the condition rather than immediately treating it when some types of lesions are found.
Scaling back the schedule for Pap tests will minimize unnecessary and potentially harmful procedures, the guidelines say. Although they also cite the expense of screening and the anxiety and "emotional impact" caused by abnormal Pap tests, "the risk of treatment was the driving factor" behind the changes, says Waxman.
ACOG's recommendations come less than a week after the U.S. Preventive Services Task Force (USPSTF), an independent panel of experts that advises the federal government on preventive care, released new guidelines for breast cancer screening. The task force recommended that women begin mammograms at age 50, not 40, and decrease the frequency thereafter.
Both the mammography and Pap test guidelines are part of a broader, evidence-based shift toward less screening, says Dr. Karen Soren, the director of adolescent health services at Columbia University Medical Center, in New York City.
"We always used to feel that the more screens you get, the better. And I think there's a new philosophy," says Soren, who has studied Pap tests in adolescents. "The whole medical community in general is saying, 'Perhaps we're overscreening.' And that relates to mammography as well."
By changing its guidelines, ACOG is breaking ranks with the other main authorities on cervical cancer. The American Cancer Society and the USPSTF both recommend that women get their first Pap test within three years of having sex, or at age 21.
Health.com: The most common STDs: HPV, herpes, and chlamydia
The ACS recommends that women ages 21 to 30 be tested every one or two years, depending on whether a conventional or liquid-based Pap test is used. Women over 30 with three consecutive normal Pap tests can be screened every two to three years, again depending on which tests are used. (ACOG guidelines do not distinguish between the different types of testing.)
We always used to feel that the more screens you get, the better. And I think there's a new philosophy
--Dr. Karen Soren
The USPSTF's mammogram guidelines, which deviated from those of the ACS, caused an uproar and have sown confusion among women, but experts agree that ACOG's recommendations aren't likely to have the same effect.
In fact, the ACOG committee that assembled the guidelines believes it will help eliminate confusion and simplify care. "Now age 21 is there as a landmark point in a young woman's lifetime: 'Gee, I'm 21, now it's time to get my Pap test,'" says Waxman.
The hope, he says, is that the ACS and the USPSTF will head in the same direction with their own recommendations. "It's very frustrating when you have three major professional organizations saying three different things," Waxman says.
Setting a woman's first Pap test at age 21 is clearer than pegging it to sexual activity, says Soren. "The recommendations have been changing and evolving, and people have been slow to catch on," she says. "Patients have been asking for different things. I think the fact that there are concrete guidelines now is actually better."
Fred Wyand, a spokesman for the American Social Health Association, a nonprofit organization that raises awareness about HPV and cervical cancer prevention, downplayed the potential for confusion among the public or health-care providers. The debate over the schedule for Pap tests is "not new," says Wyand. "The guidelines are new, but the discussion that preceded it dates back years. So I don't think anybody's going to be caught off guard."
Experts stress that annual pelvic exams may still be appropriate even though Pap tests will be performed less frequently. And, most importantly, women who have received the HPV vaccine need to stick to the same screening schedule as everyone else.
Heatlh.com: Natural pelvic remedies worth trying
"It is number one on our list to make sure that patients know that vaccination doesn't replace screening," says Einstein. "We're not ready to be making separate guidelines for vaccinated and non-vaccinated patients, and we won't be ready to do so for some time."
Copyright Health Magazine 2011