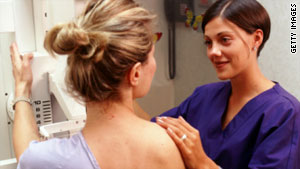 The U.S. Preventive Services Task Force says breast cancer "screenings starting at 40 should not be automatic" or denied.
STORY HIGHLIGHTS
Official says task force didn't say what it meant to say and will work on better communication
She says "screenings starting at 40 should not be automatic, nor should they be denied"
November 16 guidelines said women in their 40s shouldn't get routine mammograms
Those guidelines sparked outcry from cancer groups, survivors defending routine mammograms
Washington (CNN) -- Members of a task force that issued controversial recommendations for breast cancer screenings defended the group's guidelines but acknowledged "poor" communication in explaining them to women.
"The task force communication was poor," said Dr. Diana B. Petitti, the vice chairwoman of the U.S. Preventive Services Task Force, during a House Energy and Commerce Subcommittee hearing.
"The task force is saying that screenings starting at 40 should not be automatic, nor should they be denied. Many doctors and many women, perhaps even most women, will decide to have mammography screenings starting at age 40," she said.
"The task force acknowledges that the language used ... did not say what the task force meant to say," she said, adding that it is committed to improving its communication.
The guidelines, released November 16, said that women in their 40s should not get routine mammograms for early detection of breast cancer.
For women ages 50 to 74, the task force recommends routine mammography screenings every two years.
The recommendations sparked an immediate outcry from cancer survivors and cancer groups that said that routine mammograms for women younger than 50 can save lives.
The group's previous recommendation was for routine screenings every year or two for women ages 40 and older.
The task force is composed of 16 health care experts, none of whom are oncologists. The group reviews medical data and bases recommendations on effectiveness and risks involved.
While roughly 15 percent of women in their 40s detect breast cancer through mammography, many other women experience false positives, anxiety, and unnecessary biopsies as a result of the test, according to data.
Some members of the subcommittee were highly critical of the task force's findings.
"This is the canary in the coal mine," said Rep. John Shimkus, R-Illinois. "This is what we get when we have government intervention starting to dictate health care policy decisions."
And fellow Republican Rep. Roy Blunt of Missouri said the guidelines created a lot of "confusion for women and their families."
However, others, such as Rep. John Dingell, D-Michigan, said the task force's guidelines were just that. "These recommendations that we're going into this morning are recommendations, nothing more," he said.
Rep. Henry Waxman, D-California and the Energy and Commerce chairman, said he believed the task force set out to review its guidelines and provide its "best professional judgment" on what doctors and their patients should consider when they are making decisions.
"While that judgment may be contentious, I have no doubt it was driven by science ... and not by cost or insurance coverage or the ongoing health care reform debate," he said.
The task force chairman also denied that it was influenced by costs.
"Cost and cost-effectiveness are not addressed in our deliberations in making a recommendation," Dr. Ned Calonge said.
"Over the past several years, we have discussed whether cost should ever influence a recommendation, and we have repeatedly said no."