Report: U.S. cancer cases, deaths continue to decline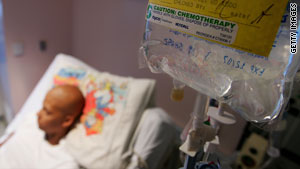 Overall cancer deaths are down because of drops in common cancers; but other cancers are up.
STORY HIGHLIGHTS
Cancer diagnoses decreased by an average of 1 percent per year from 1999 to 2006

Death rates declined between 2001 and 2006; decline was bigger for men than women

Drop in overall death rate is due to drops in most common cancers

The incidence of some types of cancers did increase

(CNN) -- New cancer cases and mortality rates linked to the disease have fallen significantly in recent years for almost all gender and ethnic groups in the United States, researchers said Monday.
Cancer diagnosis rates decreased by an average of 1 percent per year from 1999 to 2006, the last year data are available, according to an annual report in the journal Cancer.
Mortality rates declined between 2001 and 2006, according to the report. The decline was bigger among men, at 2 percent per year. For women, it was 1.5 percent per year in the same period.
"Death rates for all cancers combined from 2002 through 2006 were highest for black men and women and lowest for Asian/Pacific Islander men and women," the report said.
The declines in mortality rates were a result of a drop in death rates from common cancers: lung, prostate and colorectal in men; and breast and colorectal cancers in women. These are the leading types of cancer in men and women, respectively, the report said.
Despite an increase in the late 1990s, rates of breast cancer in women decreased by an average of 1.2 percent per year between 1997 and 2006, the report said.

Video: Cancer rates down in U.S.
Also decreasing were the rates of lung and bronchus oral cavity cancers among men and uterine and ovarian cancer among women, it said.
But some types of cancer increased, the report said. Rate increases were noted among men for kidney and liver cancers, while in women, rates increased for cancers of the thyroid, pancreas and bladder.
Both genders also registered a rise in rates of leukemia and melanoma. And while the rate of lung cancer declined for men, it went up for women, the report said.
The report was by researchers from the National Cancer Institute, part of the National Institutes of Health, the Centers for Disease Control and Prevention, the American Cancer Society and the North American Association of Central Cancer Registries.