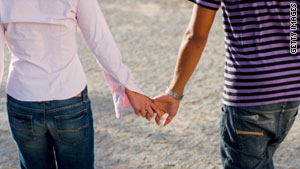 Myths about pregnancy and sexual activity continue to permeate circles of young people.
STORY HIGHLIGHTS
Myths, such as that two condoms offer more protection than one, still abound
There are also exaggerated doubts and fears about birth control pills, experts say
About half of all pregnancies in the United States are unplanned
Study calls for more education on contraception, family planning
(CNN) -- Most sexually active unmarried young adults believe pregnancy should be planned, but about half do not use contraception regularly, according to a study published Tuesday.
The survey of 1,800 people age 18 to 29 was conducted by the National Campaign to Prevent Teen and Unplanned Pregnancy.
"What is surprising is just how wide the gap is between single young adults' intentions and behavior on this very important issue," said Bill Albert, chief program officer at the organization.
Also, 29 percent of women and 42 percent of men said it is at least slightly likely they will have unprotected sex in the next three months -- and it's quite likely or extremely likely for 17 percent of women and 19 percent of men.
The discrepancy between both wanting to plan pregnancy and having unprotected sex may have something to do with a focus in recent years on abstinence-only education, said Laura Lindberg, senior research associate at the nonprofit Guttmacher Institute.
"Abstinence-only curriculums have gone explicitly out of their way to teach misconceptions about contraception," she said. "This generation of 20-somethings have missed many opportunities to get medically accurate and correct information."
But for abstinence education advocates, the problems stem from not enough focus on refraining from sex until marriage.
"I don't think we'll be able to overcome this problem unless we restore the social norm of not having sex and not getting pregnant before marriage," said Peter Sprigg, senior fellow for policy studies at the Family Research Council. "Even when people are informed, they just don't choose to consistently practice contraception."
Many of the people surveyed said they did not know much about contraception to begin with -- 63 percent said they knew little or nothing about birth control pills, and 30 percent said they had scant knowledge about condoms.
The numbers may reflect that while most people have heard of the pill and condoms, they have never been taught how to use the pill or where to get it, or how to put on a condom, said Dr. Yolanda Wimberly, assistant professor of clinical pediatrics at the Morehouse School of Medicine and an adolescent medicine specialist with Grady Health Systems in Atlanta, Georgia.
Myths about pregnancy and sexual activity continue to permeate circles of young people. For instance, 28 percent of men incorrectly believe they will get extra protection from wearing two condoms at once, a practice that actually leads to condom breakage. At the same time, 18 percent of men wrongly believe that having sex standing up reduces the chance that they will get a female partner pregnant.
These are the kinds of myths often heard in Wimberly's office. Wimberly, who sees young people from age 12 to 30 about sexual health issues, commonly hears rumors like these that have spread among friends. Anecdotal evidence that a behavior is safe is sometimes more convincing for young adults than the recommendations of health professionals.
"If other people have been doing it, and nothing bad has happened, then they'll do it," she said. "We have definitely got to do a better job of dispelling myths."
Albert said it was shocking that about four in 10 respondents said it doesn't matter whether people use birth control, believing that people get pregnant when it's their "time."
But this was not surprising for Wimberly. She pointed out that some people are not opposed to having children in their 20s and are at a point in their lives at which they would be relatively comfortable going through with an unplanned pregnancy.
There are also exaggerated doubts and fears about birth control pills, the study said. Twenty-seven percent of women and 34 percent of men in the survey said serious health problems such as cancer are likely to result from using the pill or other hormonal contraceptives.
Experts say hormonal contraceptives are relatively safe, but there is some mixed scientific research on the topic. According to the National Cancer Institute, oral contraceptives have been shown to increase the risk of cervical cancer, although human papillomavirus is the major risk factor for the disease.
Some studies have found an increased risk of breast cancer, but others found no connection. There is also evidence that oral contraceptives decrease the risk of ovarian and endometrial cancer, but that they increase the risk of liver cancer in women who are otherwise considered at low risk for the disease.
But the known evidence does not suggest it is "highly likely" that cancer will result from the pill, the National Campaign to Prevent Teen and Unplanned Pregnancy said. The survey cites a recent Mayo Clinic study that suggested an additional 2 to 3 percent increase of developing breast cancer as a result of being on the pill.
Wimberly always goes through all the pros and cons of using the pill with her patients, including the noncontraceptive benefits. Each individual should discuss all the positives and negatives of the pill with a health care provider before deciding to use it, she said.
Nearly half the adults surveyed said they agreed that "drug companies don't care if birth control is safe; they just want people to use it so they can make money." Thirty-two percent said they agreed that "the government is trying to limit blacks and other minority populations by encouraging the use of birth control."
Still, according to a 2002 study from the Centers for Disease Control and Prevention, the leading contraceptive method among women ages 15 to 29 is the pill.
While the actual rate of infertility among people 18 to 29 years old is 8 percent, a great deal more think they may fall into that category -- 59 percent of women and 49 percent of men said it is at least slightly likely they are infertile, and 75 percent of people who had concerns about fertility did not worry about it because of information from a doctor.
About half of all pregnancies in the United States are unplanned, according to the American Congress of Obstetricians and Gynecologists.
The survey calls for more sex education for adults, given that about one in five participants said they had never had sex education in school. Colleges -- both two-year and four-year -- should educate students about pregnancy and contraception, and such programs should also be available in workplaces, job training sites and the military, the survey said.
Health care providers also have a role to play in ensuring that young people know all their options for family planning, and in providing patients with these methods, the report said.
Wimberly added that other community-based venues such as churches, community centers, hospitals and after-school programs could all disseminate information about contraception and family planning.
Parents can also play a big role in helping educate their children about these issues, Albert said.
Groups such as the Family Research Council continue to advocate for abstinence-only education at the K-12 level, but the organization does not have an official stance on what sex education should happen beyond that, Sprigg said.
"But as far as investing taxpayer dollars and making a strong public policy effort, we think the principle focus should be on encouraging abstinence," he said.
The survey also touches on a distrust of the health care system more generally, Lindberg said. The challenge is to "create more positive attitudes and make health care providers and the health care system feel like a safe and trusting place," she said.