By Madison Park
CNN





(CNN) -- If you're lying awake at night, feeling angry or fatigued, because of stress, you're in the majority, according to a nationwide report released Tuesday.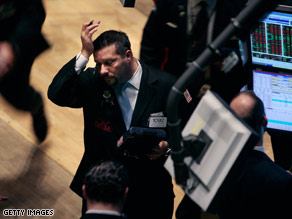 Anxieties about the economy are not only affecting Wall Street, but also 8 out of 10 Americans.
As many as 80 percent of Americans are stressed about their personal finances and the economy, according to the annual survey conducted by the American Psychological Association.
Top sources of stress in previous years were personal finances, work and issues related to raising children, said Dr. Katherine Nordal, the association's executive director for professional practice.
"This year, the jump was marked in that the No. 1 concern is both money and the economy," she said. "In my 30 years of experience, in the past, this was not the thing that would be high in complaint lists. Most people are driven to counseling because of relationship problems with marriage and children, depression and anxiety. But what we're seeing today is that the economy and finances are viewed as significantly more stressful, by more than 8 out of 10 Americans."

See how the numbers of stressed Americans grew this year »
Nearly 7,000 Americans responded to the survey between April and September this year. Within five months, anxiety about the economy had jumped from 66 percent to 80 percent. The poll was conducted before the passage of the $700 billion bailout bill last week and Monday's stock market tumble.
Half of the respondents in the survey said they are increasingly stressed about their ability to provide for their family's basic needs. More than half, 56 percent, expressed concerns about job stability. This has translated into less productivity at work, because of anxieties about salary, heavy workload and job security.
Women are more worried than men, in terms of their personal finances, the economy, work, housing costs and job stability, according to the survey.
"The declining state of the nation's economy is taking a physical and emotional toll on people nationwide, and it is women who are bearing the brunt of financial stress,"according to the survey.
They are more stressed out because they're less economically secure than men, said Barbara Gault, vice president and director of research at the Institute for Women's Policy Research. "Many women are one divorce away from poverty. Women have more to worry about in terms of economic security and are more likely to be poor in old age than men," she said.
Older Americans also cited money as a source of stress, more so than younger generations. In the survey, 79 percent of the baby boomers and 73 percent of those who are 63 years and older identified money as a source of stress.
Mounting anxieties led 60 percent of poll respondents to report that they're feeling angry and irritable, 53 percent reported feeling fatigued and 52 percent said they lie awake at night.
As many as 47 percent reported having headaches, 35 percent had upset stomachs and 34 percent experienced muscular tension because of stress.
"We have a significant number of people reporting physical signs and symptoms of stress: muscle tension, headache, difficulty falling asleep," Nordal said. "Stress warning signs should be ringing all over the place. One of the interesting things is while the majority of Americans thought they're managing stress well, many were reporting physical symptoms."

To cope with stress, 48 percent of the respondents said they have overeaten or consumed fatty, unhealthy food. Nordal said people need to pay attention to the warning signs of stress.
"It should be a wake-up call for folks," she said. "It's like the check engine light on the dashboard. If you don't pay attention to it and take your car to the mechanic, you're going to end up with a major engine malfunction. In that same way, if you put your head in the sand and ignore the headache, the chest pains, the muscle tension, they will eventually catch up with you."
E-mail to a friend

All About Stress • National Economy