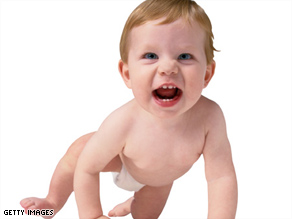 It's never too soon to start good habits: Let baby eat when hungry, stop when full, and get enough physical activity.
Overview
A new study from Harvard Medical School found that babies who gained weight quickly had a sharply higher risk of obesity. The study followed close to 600 babies and found those in the top quarter of weight for their length at 6 months had a 40 percent higher risk of obesity by age 3 than smaller babies.
Questions and anwers
Question: Should I be alarmed if my baby is very large?
The best course of action is to speak with your child's pediatrician. Your child may be large for her age, but not overweight when taken in the context of her height. Also, some babies may grow rapidly at first, and their growth starts to slow as they get older. What does that mean? Your child may be overweight at 6 months, and be at a perfectly healthy weight by age 3. A pediatrician can put your individual questions in the context of your toddler's specific measurements.

Question: If my baby is growing too quickly, what can I do?
First, take a look at your child's feeding habits. Does he push the bottle away before he's finished? If so, do you encourage him to finish it? Experts say babies are often the best judge of when they've had enough, so don't force them to take in more food. Also, are you blending solid foods in with formula or breast milk? Your best bet is to keep them separate. CNNhealth.com Living Well expert Dr. Jennifer Shu, a pediatrician, says babies gauge their fullness by volume, and if you're mixing in solid foods with the liquid, you're making the same volume of milk more caloric.
Finally, try exercise! You're not going to take your toddler to the gym, but Shu says you can put your child on her tummy to give her the chance to practice rolling over. Also, give your child as much time to run around and play as possible -- this is a child's form of exercise.
E-mail to a friend


Background
We spoke to Dr. Mark Jacobson, spokesman for the American Academy of Pediatrics; Dr. Jennifer Shu, our CNNhealth.com expert; and Dr. Elsie Taveras, the lead researcher on the Harvard Study. Here are some of the key points we learned:

• Weight-for-length measure is key. Weight, taken by itself doesn't take into account a child's height. Thinking in adult terms: a 6-foot bodybuilder is going to weight more than a 5-foot-9-inch person, but if you look at weight alone, you might consider the bodybuilder obese. You must take into account muscle mass and height.

• Not all big babies are at risk. Some will move back down on the growth curves and be just fine.

• Some other contributing factors to high baby weight: a mother's BMI before pregnancy, excess weight gain during pregnancy, the presence of high-risk conditions like pregnancy-related diabetes or hypertension.

• It's never too soon to start enforcing good habits. Make sure babies eat when they're hungry, stop when they're full, and get enough physical activity.

• Breastfeeding is the best way to ensure you're not overfeeding. When the baby is full, he will simply stop. Don't ignore a child's naturally ability to say "when."

• Good exercise for kids: rolling over, crawling, walking, pulling up to stand.

Reported by CNN medical producer Matt Sloane.