By Elizabeth Cohen
CNN Medical Correspondent





ATLANTA, Georgia (CNN) -- Americans love to take their vitamins. More than 150 million Americans take dietary supplements according to the Council for Responsible Nutrition, a supplement industry trade group.
But what should you do? Walk through the vitamin aisle of any grocery store, and you're hit by a staggering array of options. From vitamin A to glucosamine to milk thistle (what is that, anyway?) to whey protein, it's hard to decide what to take.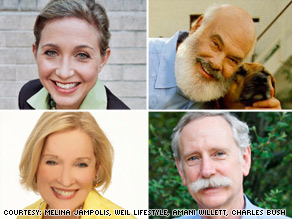 Our experts (clockwise from top left): Dr. Melina Jampolis, Dr. Andrew Weil, Dr. Walter Willett, Dr. Christiane Northrup
That's why this week the Empowered Patient asked four experts -- all medical doctors -- what supplements they take every day. Their lists may surprise you -- they all take at least two supplements -- some take three or four or more.
Choosing a daily vitamin regimen is especially daunting in light of two new studies out this week. In the largest and longest study of its kind, researchers at Brigham and Women's Hospital in Boston, Massachusetts, found that vitamins C and E do nothing to protect against heart disease in men. The study, published in The Journal of the American Medical Association, also found that vitamin E even appeared to raise the risk of bleeding strokes, which, while rare, are often the most deadly. Other research on women and vitamins is also discouraging.
A study in the Journal of the National Cancer Institute this week found that a daily regimen of vitamin D and calcium did not offer any protection against invasive breast cancer.
With those studies in mind, here's what our panel of experts takes every day.

Watch for more advice about vitamins »
Dr. Andrew Weil; Age: 66; director, Arizona Center for Integrative Medicine; Drweil.com
What he takes:
1. A daily multivitamin/multimineral
2. Vitamin D. Vitamin D deficiency has been linked to breast cancer, colon cancer, prostate cancer, heart disease, and multiple sclerosis, as well as other conditions. Studies show many of us are vitamin D deficient. Weil says look on the label to make sure you're getting vitamin D3, not vitamin D2.
3. Magnesium. Lack of magnesium may lead to irritablity, muscle weakness, and irregular heartbeat.
4. Juvenon (or "Omega"), a compound believed to enhance cellular health and function. This supplement contains two nutrients, acetyl-L-carnitine and alpha lipoic acid. The company that makes Juvenon says benefits include "more energy," a "sharper mind", and "more restful sleep."
Don't Miss
5. Co-Q-10, a supplement that boosts coenzyme Q10, which is produced by the human body and is necessary for the basic functioning of cells. Animal studies have found that coenzyme Q10 helps the immune system work better and makes the body better able to resist certain infections and types of cancer.
Weil, author of 10 books including, "Eight Weeks to Optimum Health," says it is important to take studies, like the one in JAMA, with a grain of salt. "I believe vitamins E and C are important as part of our antioxidant defenses, even if we have not yet documented specific preventive effects," says Weil.
What not to take
Weil says men shouldn't take iron unless they've been diagnosed by a physician as having iron deficiency anemia. He also advises against men taking calcium supplements; he's concerned they could increase the risk of prostate cancer.
Dr. Christiane Northrup; Age: "50 something;" author, "The Secret Pleasures of Menopause;" Drnorthrup.com
What she takes:
1. Antioxidant supplement
2. Fish oil. Some studies have found fish oil, which contains omega 3 fatty acids, can help lower triglyceride levels, lower blood pressure, and help depression, among other uses.
3. Calcium, which can help prevent osteoporosis -- a problem in particular for older women
4. Magnesium
5. Coenzyme Q10
6. Vitamin D
Northrup, an authority on women's health and wellness and author of the new book "The Secret Pleasures of Menopause," says it is important to remember that vitamins are not drugs. They don't work the same way in the body.
"Vitamins are best taken in the correct proportions to each other," says Northrup. For example, she says if you are taking folic acid, which is a B vitamin, you'll do better when you also take the other Bs that make up the B complex. Says Northrup, "That's how nutrients occur naturally and how the body best utilizes them."
What not to take
Northrup says postmenopausal women almost never need iron, and taking too much might pose a risk for heart health.
Dr. Walter Willett; Age: 63; chairman, Department of Nutrition, Harvard School of Public Health
What he takes:
1. Multivitamin
2. Vitamin D
Willett thinks the jury is still out on vitamin E and C and heart health. "I don't think we have the final answer," says Willett, the chair of the Department of Nutrition at the Harvard School of Public Health. He points out that in the Women's Health Study, women receiving vitamin E experienced a statistically significant 24 percent reduction in total cardiovascular disease mortality.
What not to take
He agrees with Dr. Weil: men don't need extra calcium, and high intake might increase the risk of prostate cancer.
Dr. Melina Jampolis; Age: 38; Drmelina.com
What she takes:
1. Multivitamin
2. Calcium
3. Vitamin D
4. Omega 3
Jampolis, who practices in San Francisco, California, and specializes exclusively in nutrition for weight loss and disease prevention and treatment, says everyone should take a basic multivitamin. "I like to call it an insurance policy," she says.
What not to take
What not to take: "I'm not convinced that the 'beautiful skin' vitamins really help much -- it's much better to get the nutrients from your diet, drink water, and wear sunscreen," Jampolis says.
The bottom line
Our experts agree you shouldn't make decisions about what vitamins to take based on a single study. For example, the JAMA study findings didn't make our experts lose faith in these two vitamins.
"I believe vitamins E and C are important for optimum health as part of our antioxidant defenses, even if we have not yet documented specific preventive effects," Weil says.
The experts also agree that taking vitamins is only part of the larger puzzle. You also need to watch your diet and exercise. And, do your homework. New studies come out all the time.
Here are three sites the experts we talked to suggested "empowered patients" check out:
Mayo Clinic's drug and supplement information center

National Institutes of Health Office of Dietary Supplements Fact Sheet
National Library of Medicine's Vitamin information page
E-mail to a friend

CNN's Jennifer Pifer-Bixler contributed to this report.
All About Vitamins and Supplements • Andrew Weil • Breast Cancer • Prostate Cancer