By Wayne Drash
CNN






Editor's note: This report is part of an ongoing series of CNN profiles on economic survival in this time of financial crisis.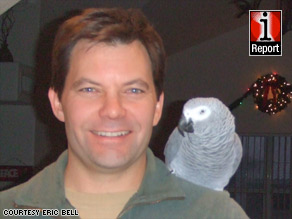 Eric Bell went from earning about $100,000 a year to picking up $216 weekly unemployment checks.
(CNN) -- Eric Bell worked his way into middle management during his nearly 10-year career at eFunds, a financial services company in the Phoenix, Arizona, area. He made about $100,000 a year, and his career was on the up. Times were good.
But it came to a crashing halt in May when his job was slashed after another company acquired eFunds. No big deal, he thought, a guy like me with an MBA can get a new job quickly.
Seven months later, the 41-year-old father of a 5-year-old boy has yet to find a full-time job. He now files for unemployment benefits every week online -- a check totaling $216.
"I never envisioned that my job search would take so long, and it's still ongoing," the Arizonan wrote to CNN's user-generated site, iReport.com. "The fall was very frustrating as companies put everything on hold with the economy falling apart."
He added, "You hear horror stories of 300-plus resumes being submitted for the most basic job -- very challenging prospect to get your resume read. The key activity to obtain quality interviews is networking. Unfortunately, it is a slow process."
But Bell was fortunate. He received a three-month severance package when he was pink-slipped, and he and his wife over the years did what financial experts say everyone should do: Live within your means, keep your mortgage low, pay off your cars and build up an emergency six-month cash fund for when hard times hit.
Don't Miss
Without that rainy day fund, Bell said, his situation would be much more desperate.
"It's dwindling," he said of the emergency cash. "Our first goal once I get hired is to rebuild that fund."
His wife has a professional job, helping maintain cash flow for the family. But still, Bell said, more than half of the family's income has disappeared. He said he's better off than most unemployed Americans and his family is "fortunate."
He might have less money, but he said unemployment hasn't stripped him of his optimistic outlook.
"For somebody that's unemployed right now, you need to turn off the news," he said. "It will affect the positive attitude you need to have. You've got to be positive, because it's not easy. All you read is the job cuts: It can be very depressing."
Bell has three tips for people like himself who are unemployed:

• Remain positive;
• Analyze yourself and figure out what you're best at;
• Network as much as possible.

"You can't sit in front of the computer all day and go: 'Woe is me, why is this happening to me?' You've got to get out and network," he said.
That type of attitude is exactly what somebody in the unemployment ranks needs to have, said Erik Fisher, a psychologist and co-author of "The Art of Managing Everyday Conflict."
"Life is about lessons, and it's about learning. In this situation, it's not about feeling bitter and resentful. It's about moving forward," Fisher said.
Fisher said that all too often people fall into a "victim mentality," often blaming others for their plight. While that might be natural to a degree after losing a job, it's not the best way to move on, he said.
"What I like about this guy is that he's not a victim," Fisher said upon learning about Bell's situation. "If we had a world full of these guys, then we wouldn't be in this mess. He didn't look to take advantage of what was given to him."
He added, "Even when things fell apart, he wasn't looking at what the world was going to do for him. He was still looking at what he could do for the world. He's going to learn from it. He's going to get a better job. He chooses to see it as an opportunity."
The nation's economic hard times were reinforced last week when major corporations announced more than 100,000 job cuts. In 2008, nearly 2.6 million jobs were lost, the highest yearly total since 1945.
In times such as these, it might be easier to feel like a victim. But Fisher said Americans must remain optimistic for the betterment of their future and for the sake of the nation. He advises clients at the end of every day to ask themselves: "Did I live my life with truth, honor and integrity today?"
"Failure is only an emotion, but it becomes a reality when we quit," he said.
Bell has no plans to quit his job hunt. He continues to network through Web sites such as LinkedIn and attends events hosted by the local chamber of commerce. iReport.com: Share your economic survival stories
He also took a four-month coaching seminar. "You have to have your story in line so that people will say, 'That's interesting and I need you for my company.' "
Last week, he began working a contracting job for a multimedia company. It's not his ideal job, but it's better than nothing, he said.
"Once they see how I work and how I can help them, they may decide we can't live without this person," he said. "I am positive I will come out of this situation with a better job."
E-mail to a friend

All About National Economy • Unemployment Rate