By Stephanie Chen
CNN






Editor's note: This story is part of an ongoing series of profiles CNN is doing about economic survival in this time of financial crisis.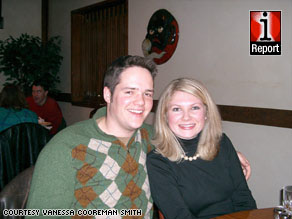 Vanessa Cooreman Smith and her husband, Steve Smith, are selling their home to help make ends meet.
(CNN) -- Vanessa Cooreman Smith dreamed of running her own boutique since college, and she's not letting anything -- not even the dismal economy -- stop her.
Cooreman Smith, 27, and her husband are selling their spacious, two-story, lakefront home in South Bend, Indiana, to keep her business alive.
"We've learned to live on less," she says. "It's my calling and I feel best when I'm doing what I love."
The couple, along with their 3-year-old son, plan to move to a smaller home, one of many cuts they have made to make ends meet. The family will cut their mortgage in half.
"It's worth every sacrifice we've had to make," says her husband, Steve Smith, 26, a self-employed Realtor.
As companies continue to lay off tens of thousands of employees each day, the Smiths aren't worried about getting a pink slip. But running their own businesses brings no less anxiety. Tell us how you're surviving
During tough economic times, small businesses are vulnerable to a drop in customers and sales. Furthermore, they face the increasingly problematic tightened credit markets and frozen lenders. Sixty-six percent of businesses survive past the first two years, according to the U.S. Bureau of Labor Statistics.
Cooreman Smith's shop, Flourish Boutique, which sells women's designer clothing, accessories and artwork, is no exception. While she says her store is still gaining market share in her town, she has noticed sluggish sales since October.
"There was a point when the phones stopped ringing," she says.
A troubled economy wasn't on Cooreman Smith's mind when she opened her boutique in early 2008. She says she didn't expect things to head south so drastically, and she had already been saving and planning for her store for nearly four years.
Cooreman Smith says she had to embrace the one concept that would help her business weather the economy: change. The troubled market forced her to react quickly, she says, describing her business skills as "chameleon-like." She abandoned some of the store's couture clothing that was selling for around $500 a dress and stocked more affordable luxury items priced around $200. This gave customers the value they wanted and they returned, she says.
She also began cutting print and radio advertising expenses. She opted to hold trunk shows in women's homes and at parties. iReport.com: Scrambling to make a profit
"It was a great way to expose our store without the high cost," she says. "That also meant I was working longer hours and practically moving my store into other people's homes for a day."
Don't Miss
Flourish Boutique is a small business that employs two other people. To avoid layoffs at her store, Cooreman Smith is saving in small ways, like taking the store's trash home to avoid paying for garbage service. She attends fashion shows in nearby Chicago, Illinois, a two-hour drive away. A year ago, she spent hundreds of dollars on flights and hotel rooms for business trips to New York and California. She also has expanded her shop's Web site to get more sales.
Experts tracking small businesses say stores like Cooreman Smith's can survive if the owners make the right operational cuts and can figure out what their penny-pinching customers want.
Meanwhile, Steven Smith, once named a top five Realtor in his county, no longer closes on homes weekly. He works solely off commission in a tanking real estate market.
Smith says that in 2005, when he helped sell townhomes near the University of Notre Dame in South Bend, his business was profitable. "They were selling like crazy," he says.
But by autumn, some of the builders he worked with had declared bankruptcy. He says developers have defaulted on payments and owe him nearly $30,000.
Because he is his own boss, Smith says he has to work twice as hard to make up for the shortfall.
"It's almost like being unemployed, but you still work every day," says Smith, whose inventory has shrunk from an average of 25 new spec homes to three. Interested buyers are rare. "You work just as hard."
He made cuts in advertising and laid off his part-time employee.
As the market continued to look sour, the Smiths knew they had to make personal cuts, too. In addition to selling their home, they laid off their son's nanny and enrolled him in day care. Last Christmas, they drove to visit family members in Savannah, Georgia, instead of flying. Vacation trips this year are unlikely, they say.
The couple no longer eats at the chic restaurants downtown or hires a baby sitter for their son on weekends so they can go out with friends.
Despite the hardships, the couple has found a silver lining in the way they manage their money.
"You get to the point where you think 'Why wouldn't you save the $2?' " Cooreman Smith says. "I wish this wasn't happening, but I think a part of me will be changed forever."
E-mail to a friend

All About National Economy • Unemployment Rate • Small Business