NEW YORK (CNN) -- Breaking up is hard to do -- perhaps even more so during a recession.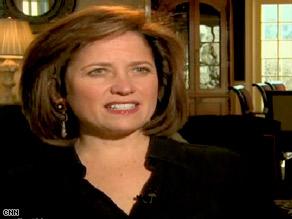 Sallie Frederick is divorcing but can't sell her home, so she's still living with her husband for now.
Just ask Sallie Frederick of Darien, Connecticut. She and her husband of 15 years are divorcing, but they both live in the house they can't sell because of the sour state of the economy.
"My husband lives in the guest room, and he comes home on Wednesday nights early to have dinner with the kids, and the other nights he comes home late to give me my space, so it's, it's not perfect," she told CNN's "Your $$$$$" program. "It's been difficult."
The stress of the country's economic meltdown is taking its toll on marriages.
And while there is no definitive evidence that says people seek divorce more or less frequently during an economic slump, what is clear is that couples in marital turmoil are feeling extra stress because of the economy.
Some, like the Fredericks, can't leave their current situation because the financial costs are too great and because it's too difficult to sell their house.

Watch Christine Romans tell the Fredericks' story »
Others may jump into divorce because of the economic strain or because divorce during hard times could be weirdly profitable.
The Cordell and Cordell law firm, which bills itself as one of the largest divorce firms in the country, has been running radio ads suggesting people whose assets have tanked may want to consider divorce because they'll lose less money to their partner, said Joseph Cordell, the firm's principal partner.
Cordell said the advice is meant only for couples who are certain they want to divorce.
"For guys that know they're going to end up getting divorced, they really need to realize that, oddly enough, it's when they can least afford it that it can make the most sense," he said.
Gary Becker, an economics professor at the University of Chicago, said past recessions have led to more couples splitting up "mainly because of the uncertainty and unemployment of both spouses."
But those separations may not result in legal divorce because of the costs, he said.
Sallie Frederick, whose husband declined to comment for this story, says she began divorce proceedings in October and expects the divorce to be final in about a month.
But their house isn't likely to sell in this slow market. That means truly splitting up may be months off.
"Right now there are 20 houses in town on the market that are in our price range, and there are no buyers," she said. "So my broker has pretty much prepared me that the house is going to sit for quite a while."
Divorce attorney Raoul Felder says couples such as the Fredericks are making the smart financial choice by living together through separation.
"People have to decide how much they hate each other, because if they can still live with each other, and the house or the apartment is big enough, they ought to stay together and wait for a rising market," Felder says.
Divorce financial planner Gabrielle Clemens says many couples don't have the $3,000 to $5,000 to hire an attorney for the process.
"If you can't even retain a lawyer and you have nothing to divide up except for debt, then I think you're better off to wait," she said. "I think that's what a lot of people are doing."
Cordell said a contested divorce involving child custody could cost up to $30,000.
Divorce attorney Felder says deciding to divorce right now is a "guessing game" about the economy.
On average, he said a divorce takes eight months. Couples have to decide if they think the economy will be any better by the time the divorce is done.
"You have got to do a very careful arithmetic," Felder says. "The best advice you can give people, if they can stand it: You are swimming against the tide at this point. Tread water a little bit. Wait for the economy to rebound."
Staying together -- even for a few more months -- could save thousands of dollars.
"A little misery is worth a lot of money," says Felder. "So try to stay married if you possibly can."
That leaves couples who are divorcing and want to live apart, like Sallie Frederick and her husband, in limbo.

Sallie Frederick, who has a business as a life coach, says the difficulty of what a lot of men and women are going through is the uncertainty.
"What is going to happen in a month? What is that picture going to look like? I don't know," she said. "I don't know where am I going to be living. It's the unknown that I think is frightening."
E-mail to a friend

CNN's Jennifer Bragg, John D. Sutter and Stephanie Chen contributed to this report.
All About Personal Finance • Divorce • Relationships • National Economy